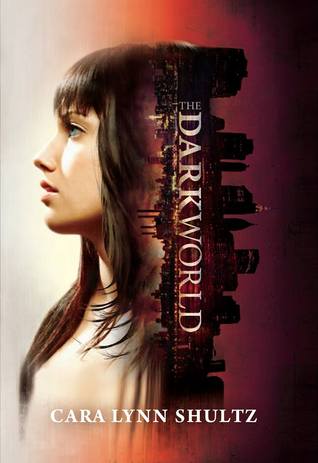 Author: Cara Lynn Shultz
Release Date: May 27th, 2014
Publisher: Harlequin Teen
Pages: 384 (Hardcover)
Format: PDF
Genre: YA | Paranormal | Demons
Series: The Dark World #1
Idiom: English
Read: from April 15 to 19, 2014
Source & Shelf: NetGalley | Kobo
ISBN: 9781743566367 (Paperback)
Cups:

---
Synopsis
:
Paige Kelly is used to weird–in fact, she probably corners the market on weird, considering that her best friend, Dottie, has been dead since the 1950s. But when a fire demon attacks Paige in detention, she has to admit that things have gotten out of her league. Luckily, the cute new boy in school, Logan Bradley, is a practiced demon slayer-and he isn't fazed by Paige's propensity to chat with the dead. Suddenly, Paige is smack in the middle of a centuries-old battle between warlocks and demons, learning to fight with a magic sword so that she can defend herself. And if she makes one wrong move, she'll be pulled into the Dark World, an alternate version of our world that's overrun by demons-and she might never make it home.
---
My Opinion:
Disclaimer: I received a copy of this book from NetGalley in exchange for an honest review.
Normality isn't the daily base of Paige's life. Her best-friend has been dead since the 1950s hence see can talk to ghosts as she talks to any living person. Since she saved a boy from being crushed and died for a few minutes, Paige's life has been turned upside-down. And now, after a lethal encounter with a fire demon, she knows that her life will never be the same. Being rescued by a demonslayer and finding out that she has the ability to open portals between our world and the Dark World doesn't really fit into Paige's description of being ordinary.
And that was the main reason I absolutely loved this book so much!
The Dark World was an enthralling, pleasant and exhilarating reading. The plot was gripping, the characters amazing and the Dark World mysterious. It had me on the edge to find out more and more about everything. And when a book does that to me, well, you know that's normally a good thing.
Paige's character was simply wonderful. She had this amazing sense of humour that had me laughing all over the place. She's one of those characters that is firm and solid despite being mocked and humiliated by her colleagues, she never lets herself down and holds her head up high, defiantly. I dare say she became one of my favourite female characters in the YA universe.
Logan, the charming demonslayer who saves Paige and who, consequently, becomes her love interest, was a surprise wrapped in a mystery that made me gawk and wishing to know more and more and more about him. His relationship with Paige was the cutest thing ever – even if too quick, I didn't care – and I couldn't help but root for them.
The secondary characters such as Dottie and Paige's parents only added a bit of flavour to the whole plot. I loved everything about them and their relation with Paige. I only wished there was more of Dottie in the book but I'm hoping she'll appear more in the continuation. Maybe a short-story about her death, perhaps?
The whole Dark World obscurity was slightly confusing at first and it kind of reminded me of City of Bones. But I didn't mind at all the contrast because The Dark World dragged me to its webs so deeply I couldn't stop reading. The fact that there was a parallel world just like ours but with dark creatures lurking its corners was too fantastic for me to care about similarities with other books. This one sounded original enough just because the writing and characters were unbelievably good.
Not good, great!
Cara Lynn Shultz wrote a paranormal YA book that will definitely be the pure delight of everyone who enjoys romance, a good and strong main female character, a nice sense of humour and an action-paced book.
I cannot wait to continue the series and see what will happen to Paige and Logan (because, due to something you find out in the book, you sure want to know what's going to happen to them).
So, lady, bring me more!!!!
XX Ner