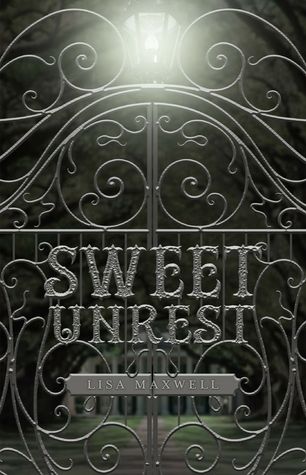 Author: Lisa Maxwell
Release Date: October 8th, 2014
Publisher: Flux
Pages: 336 (Paperback)
Format: Paperback
Genre: Romance | YA| Paranormal
Idiom: English
Read: from May 22 to 25, 2014
Source & Shelf: NetGalley | Kobo
ISBN: 9780738740812
Cups:

---
Synopsis
:
Lucy Aimes has always been practical. But try as she might, she can't come up with a logical explanation for the recurring dreams that have always haunted her. Dark dreams. Dreams of a long-ago place filled with people she shouldn't know…but does.

When her family moves to a New Orleans plantation, Lucy's dreams become more intense, and her search for answers draws her reluctantly into the old city's world of Voodoo and mysticism. There, Lucy finds Alex, a mysterious boy who behaves as if they've known each other forever. Lucy knows Alex is hiding something, and her rational side doesn't want to be drawn to him. But she is.

As she tries to uncover Alex's secrets, a killer strikes close to home, and Lucy finds herself ensnared in a century-old vendetta. With the lives of everyone she loves in danger, Lucy will have to unravel the mystery of her dreams before it all comes to a deadly finish.
---
My Opinion:
Disclaimer: I received a copy of this book through NetGalley in exchange for an honest review.

Sweet Unrest is that type of book that you have no idea where it's going but you continue reading because you want to find out. When you start reading it, your mind begins to draw different scenarios and endings but in the end it leaves you completely surprised and utterly in shock.
Lucy Aimes has always been assaulted by weird and vivid dreams. She can't make them out but they terrify her. Her family move to New Orleans and that's when everything begins to morph. Then she meets Alex, an enigmatic stranger who captures her attention but there's something odd about him. When she finally begins to dig the truth, she finds herself within a bubble of mysticism, voodoo, curses, past lives and much more she wasn't expecting and intertwine.
I enjoyed this book so much not only because of Lucy, who was a brilliant main character with a voice that was easy enough to follow, but because of the whole atmosphere surrounding the plot. New Orleans sure is the right setting for a story like this one and that was, also, one of the reasons why I enjoyed it so much.
I've been finding myself reading a lot of books set in Louisiana… not sure if that's good or not but I know I do enjoy it!
Lucy was, as I mentioned, an amazing character. I loved how she was so human and ordinary, such an easy-going and down-to-earth young girl I never got tired of her. I also did like her slow development and how she embraces the truth about her dreams and Alex and everything around her.
As for Alex, I don't really want to get into much details about him really only because he's such a complex and unexplained and so-outta-this-world character that if I begin, I'll spoil the whole of the book. And I'm surely trying to avoid that 😉
Lucy is thrust into a curse that is 100 years old. A curse that will break her heart, crush her dreams and open her eyes to small wonders in the world. And the end of the book was so shattering I still cannot believe there is a YA book out there that ends abruptly like this. I normally read happy endings and there's nothing happy about this.
This is not a book to have you all swooning and squealing; this is a heart crushing book. The end will leave you completely in shock and desperate for a sequel because it cannot, but cannot, end like this.
Trust me!
Overall, Sweet Unrest is a hauntingly brave book with a spine-chilling, mystifying atmosphere filled with the wonders and bewilderment that only New Orleans can bring.
XX Ner