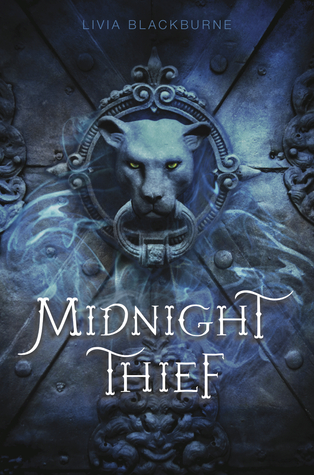 Author: Livia Blackburne
Release Date: July 8th, 2014
Publisher: Disney-Hyperion
Pages: 368 (Hardcover)
Format: PDF
Genre: Fantasy | YA | Paranormal
Series: Midnight Thief #1
Idiom: English
Read: from June 9 to 12, 2014
Source & Shelf: NetGalley | Kobo
ISBN: 9781423176381
Cups:

---
Synopsis
:
Growing up on Forge's streets has taught Kyra how to stretch a coin. And when that's not enough, her uncanny ability to scale walls and bypass guards helps her take what she needs.

But when the leader of the Assassins Guild offers Kyra a lucrative job, she hesitates. She knows how to get by on her own, and she's not sure she wants to play by his rules. But he's persistent—and darkly attractive—and Kyra can't quite resist his pull.

Tristam of Brancel is a young Palace knight on a mission. After his best friend is brutally murdered by Demon Riders, a clan of vicious warriors who ride bloodthirsty wildcats, Tristam vows to take them down. But as his investigation deepens, he finds his efforts thwarted by a talented thief, one who sneaks past Palace defenses with uncanny ease.

When a fateful raid throws Kyra and Tristam together, the two enemies realize that their best chance at survival—and vengeance—might be to join forces. And as their loyalties are tested to the breaking point, they learn a startling secret about Kyra's past that threatens to reshape both their lives.
---
My Opinion:
Disclaimer: I received a copy of this book through NetGalley in exchange for an honest review.

This was such an amazing reading. I was pretty sure I was going to enjoy this book and, truth be told, I was not disappointed. Livia Blackburne created an amazing fantasy book that I can only wish to continue being part of.
Midnight Thief tells the story of Kyra, a thief whose skills are unique and incomparable. Being the newly member of the Assassins' Guild, she finds herself in deep trouble and not knowing where her path/decisions might lead. Then you have Tristam whose life is suddenly changed when his best-friend dies and he's after his killer with his heart filled with vengeance. And wrapped within all this we have a sinister plot by the Assassins' Guild which slowly becomes bigger and intricate. Not to mention wildcats that are not exactly wildcats…
All the ingredients to be an astonishing fantasy book: thieves, assassins, knights, romance, betrayal and much more.
Livia Blackburne's writing was one of the highest points in this book. You can notice how careful she was about every detail and every character. Nothing was left to chance; everything would lead to the development of characters and plot, building up tension and leaving us wondering what would happen and eager for more. Written from Kyra's and Tristam's perspectives, it was easy to simply get inside these two characters and be part of them.
Speaking about the characters, they were the second highlight in this book. Kyra might be a thief but not a normal one. I enjoyed her character very much. She was strong and extremely human when it comes to help those in need. We could see this tender care she had for those who lived in the streets and how she would give everything to help them. Having being literally brought up on the streets, she knows how harsh life can be. And we can see how strong she is with the development of her own identity. Something happens that will forever change her and she still embraces her humanity with such a grip it's almost shatter-proof.
Kyra's best-friend Flick has been taking care of her for a while now and their friendship was sweet and affectionate. Though his character didn't had the magnitude I was expecting, I did enjoy him and how much he cared for Kyra.
Within the Assassins' Guild we have the leader James, a character I'm still not sure what to think of. At first his character attracted me and made me curious to know more about him, his life and, consequently, his future. But as the story unfolds, I've realised that he's much more that meets the eye and I'm pretty sure he's going to shock me even more in the continuation. His attitudes were arrogant, manipulative and mischievous and I have no idea whether to trust him or not. A pure mystery…
Tristam, on the other hand, is an open book as a character. Is easy to know what he feels and thinks. He's a character that goes from being a page to a knight and whose heart is torn between loyalty to Forge, his friend's vendetta and now this new person within his life who isn't what he first thought she was. Initially he's a character that we don't really care that much but he then grows on you. Quite the opposite of James.
Though I was rooting for Tristam and Kyra, I know that the romance in this book was too fast and, perhaps, not too deep as I would like. In my humble opinion, Kyra's heart is locked due to what she initially felt towards James and she's extremely scared of being hurt. Therefore, her romance with Tristam is quite undeveloped and held down. Hopefully Livia Blackburne will explore this better in her next books.
The pace of the book was, I dare say, the only reason I didn't gave this book more than 4 cups/stars. The beginning of the book was slightly slow for me. Though we got the chance to meet the characters and get into this new fantastic universe, I was waiting for some action to happen, something exciting. Then, after something happens – it involves Kyra meeting Tristam properly – did I have the feeling that the tension was building up and the pace getting faster.
There were a few plot twists in the end that were slightly predictable but I didn't mind them. I wanted to read more and more only to find out the truth and get into those twists and turns. It is one of those books where you really don't mind already knowing what's going to happen… it makes you even more interested in getting to the point where your theory will be proved.
Midnight Thief was such an astounding book filled with remarkable characters and a world that will slowly conquer your heart. A fantasy story that I'm sure will be massive for fans of Sarah J. Maas, Trudi Canavan and Kristin Cashore and will endure for years. I definitely became a fan of Midnight Thief and will continue this series.
XX Ner