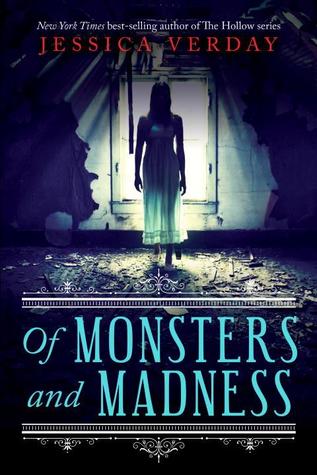 Author: Jessica Verday
Release Date: September 9th, 2014
Publisher: EdmontUSA
Pages: 288 (Hardcover)
Format: PDF
Genre: Gothic| Retelling | Horror
Idiom: English
Read: from June 16 to 18, 2014
Source & Shelf: Edelweiss | Kobo
ISBN: 9781606844632
Cups:


.

---
Synopsis
:
A romantic, historical retelling of classic Gothic horror featuring Edgar Allan Poe and his character Annabel Lee, from a New York Times best-selling author.

Summoned to her father's home in 1820's Philadelphia, a girl finds herself in the midst of a rash of gruesome murders in which he might be implicated. She is torn romantically between her father's assistants-one kind and proper, one mysterious and brooding-who share a dark secret and may have more to do with the violent events than they're letting on.
---
My Opinion:
Disclaimer: I received a copy of this book through Edelweiss in exchange for an honest review.

"It was many and many a year ago, in a kingdom by the sea…"
Of Monsters and Madness is a sort of retelling of Edgar Allan Poe's life who is my favourite poet. However, this book is a rather complex retelling that has left me not knowing how to rate it.
First, because the author too so many liberties when it comes to Poe himself I was slightly scared with how this would affect Edgar Allan Poe's own timeline.
Second, it was a mixture of so many things together I wasn't sure what I was reading.
And third, the ending was so frustrating I almost rated it one cup.
Anyway… proceeding!
Annabel Lenore Lee (I see what you did there!) is sent off to Philadelphia to live with her father. Having lived in Siam (Thailand) for so long, she doesn't know the proper Victorian etiquette and manners. Facing a father that she barely knows and who shuts her off constantly, she's lonely, gloomily and miserable. Not to mention that she moved to a place where news of brutal murders are taking shape. She's soon attracted to her father's assistant Allan who is kind and charming and sees her true self. On the other hand, she's terrified of her father's "other" assistant, Edgar, who is quite the opposite of Allan.
So, as soon as I met both Allan and Edgar I got a Dr. Jekyll and Mr. Hyde vibe straight away. And I was right. Allan and Edgar are only one man divided into two distinct personalities: Allan's the caring one who has dreams and love Annabel; Edgar is the dark one whose murky imagination runs wild.
As for Annabel, I did not enjoy her character that much. For someone who lived a harsh life in Siam, she was so naïve and innocent it made me slightly mad. And then we have the almost insta-love between her and Allan which sounded way too fast and way too incoherent.
One of the worst things for me in this book was Annabel's reaction to this Jekyll-Hyde-Allan-Edgar thing. If I happened to find out that the person I'm falling for was two different persons and that his Hyde-side was killing people, I wouldn't simply take it as lightly as she did.
And then, the completely and utterly worst thing of all was the ending! I finished the book and couldn't believe that the author had left us with the worst cliff-hanger EVER! The whole book was something of tepid beginning to a somewhat interesting, despite it all, story and when the most exciting part came, it simply ended!
However, there were a couple of positive things in this book: the descriptions were very well written and did gave this book that Gothic vibe we are used too in Poe's style; the hints to Poe's tales and poems such as "The Tell-Tale Heart", "Annabel Lee" and my favourite "The Raven"; the mystery was interesting enough to have me on the edge to discover who was the killer; the author's notes at the end of book were a real insight into the whole story – when I read them I did changed my point-of-view towards the book slightly. Always read the author's notes!!
In general Of Monsters and Madness wasn't the perfect retelling and Jessica Verday took indeed a lot of liberties with it. Some people might not enjoy them and others might enjoy that she risked writing this. As for myself, I enjoyed it a small bit but it could have been a lot more if the main character wasn't a big blah and the whole story didn't felt like it was being too forced.
Now, let me share with you the original Annabel Lee by Edgar Allan Poe just in case you don't know it!
It was many and many a year ago,
In a kingdom by the sea,
That a maiden there lived whom you may know
By the name of Annabel Lee;
And this maiden she lived with no other thought
Than to love and be loved by me.

I was a child and she was a child,
In this kingdom by the sea;
But we loved with a love that was more than love-
I and my Annabel Lee;
With a love that the winged seraphs of heaven
Coveted her and me.

And this was the reason that, long ago,
In this kingdom by the sea,
A wind blew out of a cloud, chilling
My beautiful Annabel Lee;
So that her high-born kinsman came
And bore her away from me,
To shut her up in a sepulchre
In this kingdom by the sea.

The angels, not half so happy in heaven,
Went envying her and me-
Yes!- that was the reason (as all men know,
In this kingdom by the sea)
That the wind came out of the cloud by night,
Chilling and killing my Annabel Lee.

But our love it was stronger by far than the love
Of those who were older than we-
Of many far wiser than we-
And neither the angels in heaven above,
Nor the demons down under the sea,
Can ever dissever my soul from the soul
Of the beautiful Annabel Lee.

For the moon never beams without bringing me dreams
Of the beautiful Annabel Lee;
And the stars never rise but I feel the bright eyes
Of the beautiful Annabel Lee;
And so, all the night-tide, I lie down by the side
Of my darling- my darling- my life and my bride,
In the sepulchre there by the sea,
In her tomb by the sounding sea. 
(Edgar Allan Poe, 1849)
XX Ner