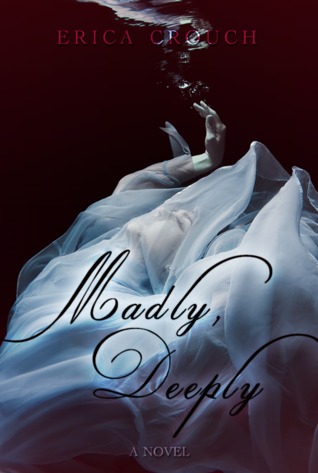 Author: Erica Crouch
Release Date: June 17th, 2014
Publisher: Patchwork Press
Pages: 209 (Paperback)
Format: ebook
Genre: Fantasy | Retelling | Romance
Idiom: English
Read: from June 29 to 30, 2014
Source & Shelf: NetGalley | Kobo
ISBN: 9781927940051
Cups:


.

---
Synopsis
:
It was many and many a year ago,
In a kingdom by the sea…

Annaleigh Wells and William Calloway had a love even the angels envied. It was as if the universe spun them toward one another, like the stars crafted their souls to fit perfectly together.

With a wedding on the horizon, fate had a change of heart. Whispered warnings from phantoms and morbid nightmares darkened every night—but even visions of the future couldn't save Annaleigh.

Inspired by Edgar Allan Poe's poem Annabel Lee, Crouch's period romance Madly, Deeply tells the tale of love so great, it cannot be contained in just one life.
---
My Opinion:
Disclaimer: I received a copy of this book through NetGalley in exchange for an honest review.

Madly, Deeply touched a nerve, moving me in a deep way I can only say that I finished this book crying. Not only because it is a sad story, but because Erica Crouch's way of describing profound and raw emotions is so beautiful you can't really help yourself.
This book is based on Edgar Allan Poe's poem Annabel Lee. It follows Annaleigh Wells and William Calloway, two lovebirds who romance is simply perfect. However, their love story is doomed and on their wedding day the most terrible thing happens!
Annabel Lee is one of my favourite poems by Poe. There's a musicality to it that is breathtaking and Erica Crouch did an astonishing job in transporting the poem into prose. The way she describes the characters, the environment, the pain and romance, everything leads to such a beautiful tale I recommend everyone who enjoys Poe's work to give it a try.
I adored the gothic vibe this novel transmitted. There was this supernatural twist to the story that felt so natural, just like the characters did, without being too much or crushing the initial concept of the story. Everything in this book felt real, palpable and simply realistic.
There were several details scattered throughout the whole book regarding Poe's work. I enjoyed reading them and connecting them together. It made me grin and simply bow down to how delicate they were but at the same time how it felt like a special dedication.
Though the beginning of this story was light and filled with romance, towards the end we have a feeling of desperation, an emptiness that slowly begins to consume William and you can't help it; you end up crying. I did cry while reading, not once because I was so sad about what had happened but also because the descriptions were so genuine I felt it within my veins. Also, because it brought back some memories from my own personal losses!
Erica Crouch delivers us a painfully beautiful, hauntingly awe-inspiring and emotional tale that will leave you in tears. Madly, Deeply is surely a perfect allegiance to its original.
XX Ner