Hosted by Viky @Books, Biscuits & Tea
| Physical – Sent by Author:
This book doesn't come as a surprise since I already mentioned it on my I'm Back post yesterday!
As a fan of this author, I am pleased to say that I'm extremely happy to have been part of the Demimonde series from the beginning to the very end. I will miss this series and these characters – I still want more Rodrian *wink wink* – but I can always go back and pick up the books. I was lucky and honoured enough to have Ash Krafton herself sending me copies of her books with amazing dedications written especially for me. I will continue following Ash's work and I wish her all the best of lucks in the world because she surely deserves it 😉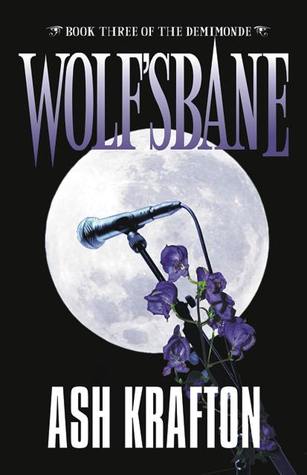 Wolf's Bane [Demimonde #3]
Ash Krafton
Release Date: June 15th, 2014
Publisher: Pink Narcissus Press
Synopsis:
Since becoming oracle to the demivampire two years ago, advice columnist Sophie has battled werewolves and survived a vampire attack (or two). However, not only was she powerless to save her lover Marek when he slipped to the brink of evolution, she also witnessed his transformation into a falcon, the symbol of Horus United.
Sophie's quest to save Marek is further complicated when rock star Dierk Adeluf – who also happens to be the king of the Werekind – invites her backstage after a concert. Just when it seems she will find respite from heartache, Sophie is bitten by a werewolf and Dierk decides she is destined to be his queen.
Sophie is caught between the demivamps she loves and the Were who commands her to love him. Throw in his jealous wanna-be girlfriend and an ambush by witches, and there you have the big mess that Sophie calls her life. And, hello? Her soul mate is still a bird.
She's supposed to be the girl with all the answers, but Sophie needs more than a little advice–she needs divine intervention.
| ebook – sent by author (for review):
Last year Megan Curd contacted me to be part of her Steel Lily Blog Tour. It was my first tour stop and I dare say that after that I overcame my fear of tours and signed-up to a few of them. 
So, a couple of weeks ago I was contacted to be part of Iron Pendulum Blog Tour, the sequel to Steel Lily. I'm super excited to continue this series and to pick up the book. 
And I loved the cover of Steel Lily but this one… *swoons*
Thank you very much for this opportunity once again ❤
Iron Pendulum [The Periodic Series #2]
Megan Curd
Release Date: August 28th, 2014
Synopsis:
A month ago, Avery thought the world ended outside Dome Four. Thought she was one of the few of her kind. Thought the war that brought the human race to the brink of extinction was over.
But a month can change everything.
After fighting to escape a tyranny she didn't even know existed, Avery has had to come to grips with all the secrets she's uncovered. But more secrets continue to come to light, revealing how little of her world she truly knew. When evidence starts to show that Dome Four might be under siege, Avery knows what she must do.
Returning to the dome she longed to escape is a challenge for Avery, but now she knows there's corruption lurking in the shadows. A massive steam shortage leaves half the dome without power, and people are falling ill. Dying.
And they're blaming Avery.
A month can change everything. One more month could kill everyone. The clock is ticking.
| NetGalley:
Accession [The Sarath Web #1]
Terah Edun
Release Date: August 5th, 2014
Publisher: All Night Reads
Synopsis:
Sixteen-year-old Katherine Thompson wasn't trained to rule a coven. That was her sister – perfect, beautiful Rose. But when a mysterious plane crash kills off the heir presumptive of the Sandersville coven she has no choice.
After stepping in to fill her sister's shoes, Katherine realizes she didn't have a clue – faery wars, depressed trolls and angry unicorns are just the beginning.
For centuries, her family has served the high Queens on both sides of the Atlantic but it is a well-known rule that mid-level witches stay away from high-level Queens.
But when Katherine's youngest cousin vanishes without a trace in the Atlanta court and no one wants to investigate, Katherine decides to step into the darkness on her own. She will soon discover that nothing, in a queen's court, is as it seems.
The 100 [The Hundred #1]
Kass Morgan
Release Date: March 18th, 2014
Publisher: Little, Brown Books for Young Readers
Synopsis:
No one has set foot on Earth in centuries — until now.
Ever since a devastating nuclear war, humanity has lived on spaceships far above Earth's radioactive surface. Now, one hundred juvenile delinquents — considered expendable by society — are being sent on a dangerous mission: to recolonize the planet. It could be their second chance at life…or it could be a suicide mission.
CLARKE was arrested for treason, though she's haunted by the memory of what she really did. WELLS, the chancellor's son, came to Earth for the girl he loves — but will she ever forgive him? Reckless BELLAMY fought his way onto the transport pod to protect his sister, the other half of the only pair of siblings in the universe. And GLASS managed to escape back onto the ship, only to find that life there is just as dangerous as she feared it would be on Earth.
Confronted with a savage land and haunted by secrets from their pasts, the hundred must fight to survive. They were never meant to be heroes, but they may be mankind's last hope.
XX Ner