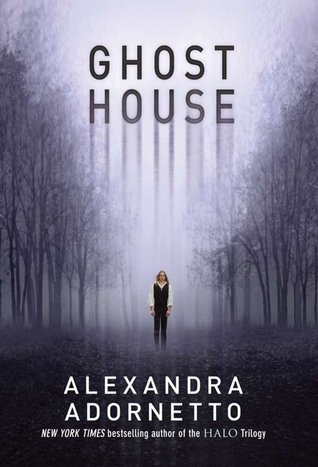 Author: Alexandra Adornetto
Release Date: August 26th, 2014
Publisher: Harlequin Teen
Pages: 320 (Hardcover)
Format: PDF
Genre: YA | Ghost | Paranormal
Idiom: English
Series: Ghost House Saga #1
Read: from July 2 to 14, 2014
Source & Shelf: NetGalley | Kobo
ISBN: 9780373211302 (Hardcover)
Cups:

---
Synopsis
:
From the New York Times bestselling author of Halo comes the start of a beautiful and powerful new series.

After the loss of her mother, Chloe Kennedy starts seeing the ghosts that haunted her as a young girl again. Spending time at her grandmother's country estate in the south of England is her chance to get away from her grief and the spirits that haunt her. Until she meets a mysterious stranger…

Alexander Reade is 157 years dead, with secrets darker than the lake surrounding Grange Hall and a lifelike presence that draws Chloe more strongly than any ghost before. But the bond between them awakens the vengeful spirit of Alexander's past love, Isobel. And she will stop at nothing to destroy anyone who threatens to take him from her.

To stop Isobel, Chloe must push her developing abilities to their most dangerous limits, even if it means losing Alex forever… and giving the hungry dead a chance to claim her for their own.
---
My Opinion:
Disclaimer: I received a copy of this book through NetGalley in exchange for an honest review.
Every single review I read about Ghost House was negative so I started this book with low expectations. Yet, though it isn't the best written book in the whole galaxy, it managed to entertain me which, as a whole, is a positive thing.
Chloe has always been able to see ghosts. After her mother's death, she's sent with her little brother to England to spend some time with their grandmother. And there she meets Alexander, a ghost with whom she falls in live with. However,  there's another spirit haunting Grange Hall and this one has a connection to Alexander that might put Chloe in danger… and everyone around her.
The positive thing about this book was the fact that I was hooked in the mystery surrounding Alexander and Grange Hall. I wanted to know how Alexander had died, who was the strange and creepy spirit after Chloe, how the love story was going to unfold. And, I admit, Chloe was a nice character to meet. She was, at times, slightly annoying and always too pitiful but when he allowed herself to fully appreciate life and forget the demons after her, she was quite interesting.
Alexander's character didn't conquer me though. First of all, I have to get this out of my chest but do all 19th Century ghosts need to named Alexander? I found that a little bit of a cliché plus the way he and Chloe met and the insta-attraction/love between them. Also, he would change mood in a whiplash which was irritating as hell.
Alexander and Chloe are both "haunted" by the ghost of Alexander's past love Isobel who is, let me tell you, creepy enough to have me slightly scared. Though there's something I couldn't really understand in her, in the reason why she lingered and why she became this obsessed sort of demon who is constantly after Alexander and pushing away Chloe.
Now, there was a character in this book that I truly wish to see more in the sequel though he's British and Chloe went back home at the end of the book. Joe! There was this insta-friendship between him and Chloe that, even though I found extremely fast, was kind of sweet.
There's one thing in the book that made my head ache slightly: the time! I couldn't really understand how time worked in this book. It felt like time was literally flying by in the story. One minute it was midnight and after a couple of sentence dialogue, it would be 10am. There's not a real passage of time in here.
Overall I did enjoyed Ghost House though I think it had much more potential than what Alexandra Adornetto gave it credit for.  Still, you get some goose-bumps, some laughs and some pangs in the chest with this book. But don't expect a highly creepy, jump out of my skin kind of story.
XX Ner