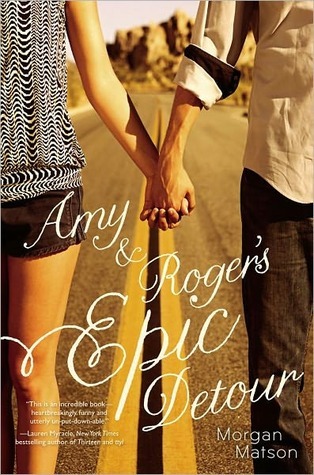 Author: Morgan Matson
Release Date: May 4th, 2010
Publisher: Simon and Schuester
Pages: 368
Format: ebook
Genre: YA | Contemporary
Idiom: English
ISBN: 9781416990659
Cups:

---
Synopsis
:
Amy Curry thinks her life sucks. Her mom decides to move from California to Connecticut to start anew–just in time for Amy's senior year. Her dad recently died in a car accident. So Amy embarks on a road trip to escape from it all, driving cross-country from the home she's always known toward her new life. Joining Amy on the road trip is Roger, the son of Amy's mother's old friend. Amy hasn't seen him in years, and she is less than thrilled to be driving across the country with a guy she barely knows. So she's surprised to find that she is developing a crush on him. At the same time, she's coming to terms with her father's death and how to put her own life back together after the accident. Told in traditional narrative as well as scraps from the road — diner napkins, motel receipts, postcards–this is the story of one girl's journey to find herself.
---
My Opinion:
Amy is a teenager that's been going through some teally tough times. Her father died in a car accident, her brother is in rehab and, on top of that, her mother is making them leave the only home she's know her entire life and move to Connecticut.
Amy has only one mission: to drive her mom's car across states to their new house. But there is one problem, Amy doens't drive anymore. Hence Roger, the son of one of her mother's friends. He's supposed to drive the car and to take Amy across the country. She was not happy. She hadn't seen Roger since they were little, and the last thing she wanted was to ride in a car for hours and hours on end with a boy she barely even knew.
They were supposed to follow her mother's itinerary and to check into the hotels she'd chosen for them. Of course, they do nothing of the sort. So, this road trip that she dreaded so much actually turned into somenthing she didn't want to end.
It's really interesting to see both character envolve. Just like Amy, Roger has something that he also has to figure out. They really help each other overcoming their issues.
I didn't particularly find very interesting the places they chose to go except for one, but I can see how important it was for the story, as all the places were, one way or another, related to their pasts and their issues. And I could say that each town they were in, something actually important happens, and I could see Amy and Roger gradually changing. Especially the way they feel about each other.
Don't go into this book thinking it is just fun and sweet and light. It is not. There are some strong, sad parts as they work out their problems.
I also really liked that Amy has a scrap-book of  their road trip, and you get to see them throughout the book. There's details about the states they're in, pictures, playlists, their bills and receipts, that sort of stuff.
Both Amy and Roger are very likeable characters, funny and entertaining. I get were Amy is coming from, I didn't necessarily went through the same situation, but I can say I completely understand how she feels. And, Roger could have become one of my favourite male characters, if it wasn't for the fact that he sometimes annoyed the hell out of me and made wanna smack some sense into him as he did not seem to notice what was right in from of him.
The writing is very simple and pleasent, easy to understand. I also found this book to be a mine of really good quotes.
"Tomorrow will be better."
"But what if it's not?" I asked.
"Then you say it again tomorrow. Because it might be. You never know, right? At some point, tomorrow will be better."
"The best discoveries always happened to the people who weren't looking for them. Columbus and America. Pinzón who stumbled on Brazil while looking for the West Indies. Stanley happening on Victoria Falls. And you. Amy Curry when I was least expecting her." 
I smiled back at him while feeling sharply just how much I was going to miss him. It was almost a physical pain. "I'm on that list?"
"You're at the top of that list."
"…You can do something extraordinary, and something that a lot of people can't do. And if you have the opportunity to work on your gifts, it seems like a crime not to. I mean, it's just weakness to quit because something becomes too hard…" 
"Ad astra per aspera, to the stars through adversity"
Overall, is just a summery, feel-good road book that still deals with grif and loss and coming to terms with it. I loved that everyday they were in a different place and I loved all the different cool people they met. It was so sad when they had to part ways, I dind't want the road trip to end and I wanted to know what was going to happen next.  I will definitely read more books by Morgan Matson.
XX Carla