Happy Friday everyone 🙂
This is quite late in the day (it's already 5 pm in Portugal!) but it's better late than never, right?! This Friday I'm sharing a book that is being quite complicated for me to keep up! I even had to stop reading it last night and pick up another book in order to distance myself from it a little! It didn't help but I will try to read as much as I can before deciding that this is a DNF book.
So, check out the book I'm having troubles reading: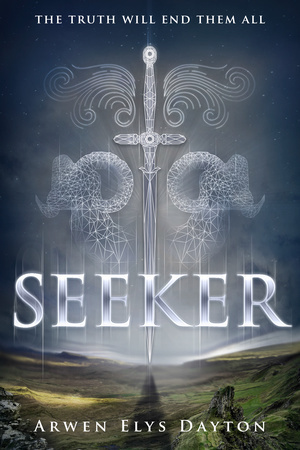 Seeker [Seeker #1]
Arwen Elys Dayton
Quin Kincaid has been put through years of brutal training for what she thinks is the noble purpose of becoming a revered 'Seeker'.
Only when it's too late does she discover she will be using her new-found knowledge and training to become an assassin.
Quin's new role will take her around the globe, from a remote estate in Scotland to a bustling, futuristic Hong Kong where the past she thought she had escaped will finally catch up with her.
***
Okay, I'm so lost with this book. I have no idea what's going on, what time period were in – it's like a medieval setting with modern technology and steampunk altogether – and I'm not really caring about the character. I was so excited to read this book but so far it has been a total let down! However, I will try to read it till the end before giving up but, to be honest, I think this will definitely be a DNF! Maybe I'll put it aside and pick it up later!
I also found out through the author's Goodreads page that there is going to be a movie based on this book. I have no idea what I feel about it but I will keep an eye out for it and an open mind. Maybe the movie will help those who didn't understand the book – as me so far – to grasp it properly.
Have you read this book? And what are you read this Friday?
You can leave me a comment or share via Instagram (you can follow me here) and/or Twitter (you can follow me here) by using the following hashtag #FridayReadsAndCoffee 🙂