It's Friday 13th, who's superstitious?!
I AM!!!
Happy Friday fellow bookworms! So, this last week as my first week of classes and you all know it's all a rollercoaster. Meet the new teachers, know the subjects, organise things!! Yap, the same old tiredness!! And this week I barely had time to read… well, I was beginning to have a reading-slump thanks to Seeker – it did end up as a DNF book… it did!
And because I didn't want to procrastinate when it comes to reading, I've decided to pick up a book that everyone is loving and it's already considered one of the best books of 2015! Check it out: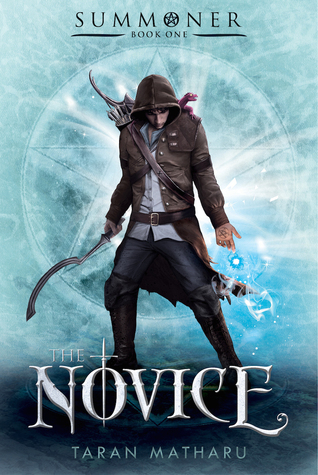 The Novice [Summoner #1]
Taran Matharu
Fletcher was nothing more than a humble blacksmith's apprentice, when a chance encounter leads to the discovery that he has the ability to summon demons from another world. Chased from his village for a crime he did not commit, he must travel with his demon to the Vocans Academy, where the gifted are trained in the art of summoning.
The academy will put Fletcher through a gauntlet of gruelling lessons, training him as a battlemage to fight in the Hominum Empire's war against the savage orcs. Rubbing shoulders with the children of the most powerful nobles in the land, Fletcher must tread carefully. The power hungry Forsyth twins lurk in the shadows, plotting to further their family's interests. Then there is Sylva, an elf who will do anything she can to forge an alliance between her people and Hominum, even if it means betraying her friends. Othello is the first ever dwarf at the academy, and his people have long been oppressed by Hominum's rulers, which provokes tension amongst those he studies alongside.
Fletcher will find himself caught in the middle of powerful forces, with nothing but his demon Ignatius to help him. As the pieces on the board manoeuvre for supremacy, Fletcher must decide where his loyalties lie. The fate of an empire is in his hands … 
***
Okay, so… I read only around 15% of this book but I admit that whenever I pick up this book, I LOVE IT!!!
I've just been too tired to read but when I do, I'm always looking forward to continue! The writing is amazing, you can visualise everything and have a great connection with the characters. Fletcher, the main character, is a very likeable young man and I cannot wait to know more!
Yeah, I think you can already notice that this is being a hell of an amazing book!
What about you? What are you reading on this creepy Friday?
You can leave me a comment or share via Instagram (you can follow me here) and/or Twitter (you can follow me here) by using the following hashtag #FridayReadsAndCoffee 🙂