Happy Friday everyone!!!
I guess I owe you all an apology. I've been absent this week because of that thing called University that sometimes forgets we have a personal life outside its walls. I was supposed to have had a presentation yesterday so I spent this week working like a slave… Unfortunately me and my group we weren't prepared and asked the Professor for more time! Now we have to be ready to present on Thursday! Yeah… a whole weekend working! BAH!!!
Anyway, I will try to divide things between updating the blog and trying to understand the syntax of Old English! So, last week I didn't post any Friday Reads because I was in a dilemma about which book to start. When I finally decided it was already late to share it with you. After finishing A Magic Dark and Bright (OMG! GO READ THAT BOOK RIGHT NOW!!! Just be careful with the ending :D) I decided to pick up a book that came out last year and whose sequel I have on my Kobo from NetGalley! So, check out what I'll try to read and finish this weekend: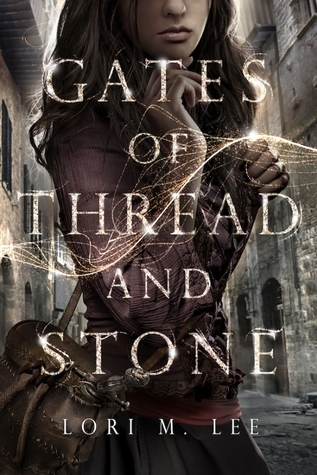 Gates of Thread and Stone [Gate of Thread and Stone #1]
Lori M. Lee
In the Labyrinth, we had a saying: keep silent, keep still, keep safe.
In a city of walls and secrets, where only one man is supposed to possess magic, seventeen-year-old Kai struggles to keep hidden her own secret—she can manipulate the threads of time. When Kai was eight, she was found by Reev on the riverbank, and her "brother" has taken care of her ever since. Kai doesn't know where her ability comes from—or where she came from. All that matters is that she and Reev stay together, and maybe one day move out of the freight container they call home, away from the metal walls of the Labyrinth. Kai's only friend is Avan, the shopkeeper's son with the scandalous reputation that both frightens and intrigues her.
Then Reev disappears. When keeping silent and safe means losing him forever, Kai vows to do whatever it takes to find him. She will leave the only home she's ever known and risk getting caught up in a revolution centuries in the making. But to save Reev, Kai must unravel the threads of her past and face shocking truths about her brother, her friendship with Avan, and her unique power.
***
I'm 64% done with this book so I might finish it between tonight and tomorrow. I'm really enjoying it though the action is slowly making its presence. Still, it's grasping my attention enough to have me desperate to know what's going to happen.
I have the sequel, The Infinite, from NetGalley to read since the book will be coming out in four days… yah, last week I had planned to have both books read! DAMN YOU UNIVERSITY!!! But I will be reviewing both as soon as I have finished then 🙂
What about you? What are you reading this Friday? Which book(s) will accompany you this weekend?
You can leave me a comment or share via Instagram (you can follow me here) and/or Twitter (you can follow me here) by using the following hashtag #FridayReadsAndCoffee 🙂