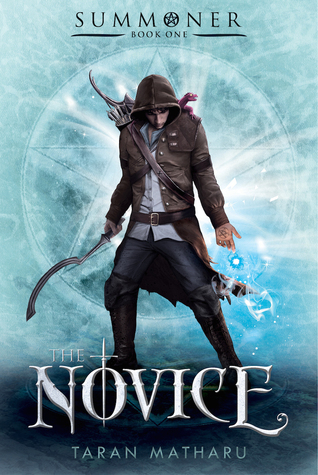 Author: Taran Matharu
Release Date: May 5th, 2015
Publisher: Hodder Children's Books
Pages: 400 (Hardcover)
Format: PDF
Genre: YA | High Fantasy | Demons
Idiom: English
Series: Summoner #1
Read: from February 8 to 20, 2015
Source & Shelf: NetGalley | Kobo
ISBN: 9781444923971 (Hardcover)
Cups:

Synopsis

:
Fletcher was nothing more than a humble blacksmith's apprentice, when a chance encounter leads to the discovery that he has the ability to summon demons from another world. Chased from his village for a crime he did not commit, he must travel with his demon to the Vocans Academy, where the gifted are trained in the art of summoning.

The academy will put Fletcher through a gauntlet of gruelling lessons, training him as a battlemage to fight in the Hominum Empire's war against the savage orcs. Rubbing shoulders with the children of the most powerful nobles in the land, Fletcher must tread carefully. The power hungry Forsyth twins lurk in the shadows, plotting to further their family's interests. Then there is Sylva, an elf who will do anything she can to forge an alliance between her people and Hominum, even if it means betraying her friends. Othello is the first ever dwarf at the academy, and his people have long been oppressed by Hominum's rulers, which provokes tension amongst those he studies alongside.

Fletcher will find himself caught in the middle of powerful forces, with nothing but his demon Ignatius to help him. As the pieces on the board manoeuvre for supremacy, Fletcher must decide where his loyalties lie. The fate of an empire is in his hands …
My Opinion:
Disclaimer: Thank you NetGalley and Hodder Children's Books for providing me with a copy.
– Initial quick review posted on Goodreads when I finished the book (it earned me a few likes so I won't delete it :P):
My thoughts about the book:

My thoughts about the author:

– And now the full review:
OMG!!


THIS BOOK WAS BEYOND AMAZING!!!
I can already see this book on a lot of favourite books of 2015 lists! It will definitely be on mine, you rest assure!
When I picked up this book I already had my expectations slightly high towards it. The plot sounded amazing, the cover is GOR-GE-OUS and Ben, from Benjamin of Tomes, had loved it! So, when I finally entered this amazing world of summoners, demons, orcs, elves, dwarves, magic and pure, raw fantasy, I fell in love. Let's say that my expectations were high and it didn't disappointed me. Not one bit!
The story follows Fletcher who by reading an old scroll summons a demons, not an evil creature but more like a extension of a Summoner. After being accused of a crime he didn't committed, he flees his village, Pelt, and journeys to the capital of Hominum and there finds his place at Vocans Academy, a school for Summoners to learn to control their power.
Fletcher's character was amazing. He had this freshness to him that made you like his character instantly. I felt that the author didn't tried to create a character that would be someone beyond his young age but someone who would mature with what life threw at him. Being accused of something he didn't do, thrown out of his life and the only family he had certainly changes a person. And his relationship with his demon, Ignatius, was adorable.
The whole universe that Taran Matharu created was really well developed and felt real almost as if I belonged there. You enter this new world and you get a vibe of other books and stories you've read but it manages to stand out on his own. I'm looking forward to explore this universe in more books.
The magic was impressive though I'm pretty sure a lot more is going to happen. I'm beginning to understand that this book only shown us a glance of the bigger picture. In here the magic was new and unexplored by Fletcher. It was dangerous and focused on mana as the fuel to use it. I really want to know more about that parallel universe, the ether, from where Ignatius comes from.
Speaking of Ignatius, I just have to let this out of my chest 'cause I've spent the whole book with this idea on my mind. I kept picturing this salamander as a small version of Toothless from How to Train Your Dragon. I loved Ignatius, perhaps my favourite character in the book despite the fact that he doesn't talk. I guess that my visual resemblance between Ignatius and Toothless is to blame.
As for the writing, can I just say that Taran Matharu really has a talent to tell stories. He draws you immediately with a few sentences. I kept saying to myself that I could spend the entire day reading this book without getting bored not only because of the story, but also because of the way the author writes. 
The Novice was a delightful book filled with everything you can expect from a fantasy book. It was captivating, exciting, interesting, entertaining, fun and simply THAT good! You can expect a battle between orcs, elves and dwarves fighting together for a better world, an orphan boy trying to find his place in the world and a whole bunch of adorable demons that will make you want one for yourself. I will definitely be anxiously waiting for a great sequel to this book.