TGIF!!!
It's finally Friday… say what?! It feels like this week was a total blur. I barely noticed it passing by… time does fly!!! 
So, this weekend I'm going to try to finish what I'm currently reading and then pick up the next book on my TBR pile. Take a look at what I'm reading: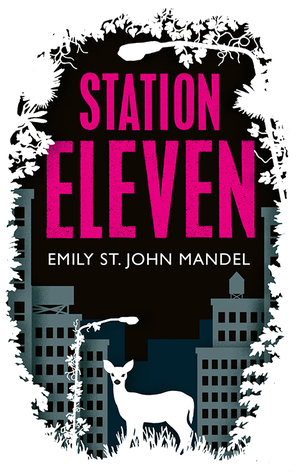 Station Eleven
Emily St. john Mandel
DAY ONE
The Georgia Flu explodes over the surface of the earth like a neutron bomb.
News reports put the mortality rate at over 99%.
WEEK TWO
Civilization has crumbled.
YEAR TWENTY
A band of actors and musicians called the Travelling Symphony move through their territories performing concerts and Shakespeare to the settlements that have grown up there. Twenty years after the pandemic, life feels relatively safe.
But now a new danger looms, and he threatens the hopeful world every survivor has tried to rebuild.
STATION ELEVEN
Moving backwards and forwards in time, from the glittering years just before the collapse to the strange and altered world that exists twenty years after, Station Eleven charts the unexpected twists of fate that connect six people: famous actor Arthur Leander; Jeevan – warned about the flu just in time; Arthur's first wife Miranda; Arthur's oldest friend Clark; Kirsten, a young actress with the Travelling Symphony; and the mysterious and self-proclaimed 'prophet'.
Thrilling, unique and deeply moving, this is a beautiful novel that asks questions about art and fame and about the relationships that sustain us through anything – even the end of the world.
***
This has been a rather pleasant reading so far. I'm really looking forward to see where this leads and how it'll end. I admit that in the beginning I was slightly lost but as soon as I got the grip of it and understood the main point of it, it became a really good book, a rather nice surprise. This isn't exactly what I first had expected but it did surpass my expectations, so far.. Let's hope it'll continue this way till the end.
What about you? What are you reading this Friday? Which book(s) will accompany you this weekend?
You can leave me a comment or share what you're reading via Instagram (you can follow me here) and/or Twitter (you can follow me here) by using the following hashtag #FridayReadsAndCoffee 🙂