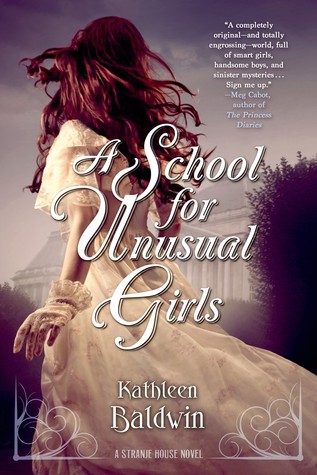 Author: Kathleen Baldwin
Release Date: May 19th, 2015
Publisher: Tor Teen
Pages: 352 (Hardcover)
Format: ebook
Genre: YA | Historical Fiction | Fantasy
Idiom: English
Series: Stranje House #1
Read: on May 24th, to June 2nd 2015
Source & Shelf: NetGalley | Kobo
ISBN: 9780765376008 (Hardcover)
Cups:

Synopsis

:
It's 1814. Napoleon is exiled on Elba. Europe is in shambles. Britain is at war on four fronts. And Stranje House, a School for Unusual Girls, has become one of Regency England's dark little secrets. The daughters of the beau monde who don't fit high society's constrictive mold are banished to Stranje House to be reformed into marriageable young ladies. Or so their parents think. In truth, Headmistress Emma Stranje, the original unusual girl, has plans for the young ladies—plans that entangle the girls in the dangerous world of spies, diplomacy, and war.

After accidentally setting her father's stables on fire while performing a scientific experiment, Miss Georgiana Fitzwilliam is sent to Stranje House. But Georgie has no intention of being turned into a simpering, pudding-headed, marriageable miss. She plans to escape as soon as possible—until she meets Lord Sebastian Wyatt. Thrust together in a desperate mission to invent a new invisible ink for the English war effort, Georgie and Sebastian must find a way to work together without losing their heads—or their hearts…
My Opinion:
Disclaimer: Thank you NetGalley and Macmillan-Tor/Forge for providing me with a copy.
A School for Unusual Girls wasn't exactly what I first expected but it did surpass my expectations. Initially I thought this was going to be a gothic tale with a paranormal twist to it but it turned out to be a speculative fiction with a very nice and intriguing plot – plus the bit of magic in it which is very subtle.
You start this book with Georgiana being sent off to a boarding school dedicated to reform troubled young girls. The methods we are introduced to Georgie's parents really scare you – a sarcophagus with spikes? a stretching rack? who wouldn't want to run away from that? – but as Georgie begins to settle into the school, we finally understand the true reality of it. It is indeed a school, but to teach them how to be, what I call, spies. Well, not actual spies but with enough knowledge to help them get out of a tough situation.
Georgie's reason from being sent to Stranje House has to do with her passion with chemistry. She burnt down her father's stables while trying to create a different sort of ink – invisible ink. This ink will be extremely important throughout the whole book and probably one of the reasons why she's sent and accepted into Stranje House. Miss Emma Stranje alongside a group of, let's call them, rebels, intend to restore order in the monarchy now that Napoleon was exiled to Elba.
I've never been one to read much speculative fiction though I've always been quite interested in knowing how author's would change the world we know into something different. And this book explores the idea of how things would be like if the group supporting Napoleon and his empire would win and conquer. I really enjoyed that idea – plus, the whole Napoleon aspect of history isn't one that I'm deep into, I know what I've learnt a long time ago in school and that's it! It was nice to learn a few things about it.
I really enjoyed the characters, all of them. I found them quite believable, well developed and created. Georgiana and Sebastian were simply delicious to read about. Though their romance was almost instantaneous, the way they connected was rather sweet. The other girls were also a plus in the book, making it not only about Georgie and her ink and Sebastian, but also about them as pupils in Stranje House and human beings. However, I really hope to be able to learn more about Miss Stranje and her background history. She sounds like a character that deserves her own story.
Kathleen Balwin's writing was also very easy to read and rather captivating. The author managed to write a story with a classic twist to her writing which I found quite appealing. The only thing I wished was knowing what sometimes happened inside Sebastian mind and the other girls. 
However, I found the ending quite abrupt, anti-climatic and lacking something. After spending so much time creating the ink and then trying to save someone (not telling you who it is), I found that the whole ending was a bit rushed and just a way to create a cliffhanger.
Overall, A School for Unusual Girls was pleasant read. It does a bit of paranormal in the air enough to keep it interesting but not really dwelling on it. It's a book that explores the what ifs that normally happens in speculative fiction (me thinks!) and it has a lot of funny moments to it. It might remind you of other stories but it manages to be quite original at the same time. If you like books with rather interesting female characters, history wrapped in paranormal and a bit of romance, then I believe you'll enjoy this book.