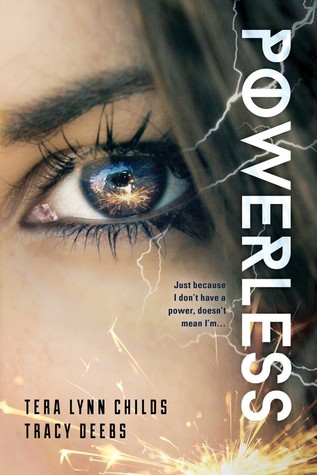 Authors: Tera Lynn Childs & Tracy Deebs
Release Date: June 2nd, 2015
Publisher: Sourcebooks Fire
Pages: 308 (Hardcover)
Format: ebook
Genre: YA | Superhero | Sci-Fi
Idiom: English
Series: The Hero Agenda #1
Read: on June 6 to 10, 2015
Source & Shelf: NetGalley | Kobo
ISBN: 9781492616573 (Hardcover)
Cups:

Synopsis

:
Kenna is tired of being "normal". The only thing special about her is that she isn't special at all. Which is frustrating in a world of absolutes. Villains, like the one who killed her father, are bad. Heroes, like her mother and best friend, are good. And Kenna, unlike everyone else around her, is completely ordinary— which she hates.

She's secretly working on an experiment that will land her a place among the Heroes, but when a Villain saves her life during a break-in at her lab, Kenna discovers there's a whole lot of gray area when it comes to good and evil and who she can trust.. After all…not all strength comes from superpowers.
My Opinion:
Disclaimer: Thank you NetGalley and Sourcebooks Fire for providing me with a copy.
This book was such an awesome surprise. I simply loved the whole concept of this book, the action, the characters, the superheroes vs. villains plot… absolutely everything. Powerless was the superhero book I needed in my life since I haven't read that many in this particular subject – I had been rather unlucky with superheroes books. .
Imagine a world where superheroes and villains were your daily neighbours. In Kenna's world, she's the daughter of a famous super-hero who died at the hands of villains. She was brought up believing in the goodness of the heroes and the evilness of the villains. But when one night, three villains break into her laboratory and one of them saves us, she's thrown into a world that will make her see that there is this grey shade in between good and evil. She learns the truth about her adoring heroes and that truth is hard and cold. She units with the three villains that broke into her lab and together they try to expose the cruelties of the superheroes.
You start the book with a brief log of some sort of experiment that was probably what caused the humans to have powers and, consequently, lead to the creation of superheroes and villains. Not much is told about how these people are born with powers, what did scientists do to create them and so forth. You are literally thrown into this world without really knowing anything about it. You only know that when someone develops a power, they are immediately identified as hero or villain.
But, it didn't bothered me at all since the action on itself managed to hook me straight away. This was one of those books that started with a bang and it didn't stop until the very end. As soon as you set foot into this book, it'll be complicated for you to leave.
Kenna was a smart and easy character to like immediately. Though her narration is sometimes dispersed and she ends up repeating herself too much, she was a kick-butt strong female character that has all the potential to be great. She was funny, fearless and with a twist in the end that will leave you slightly taken aback (I sure was!).
The villains that end up working with Kenna were simply amazing. Actually, the whole group of villains, heroes and ordinary people that end up trying to rescue someone was the best. There was a lot of varieties in personalities and some bickering between characters that made it even the more amusing. 
Draven, the 'villain', was a true delight. Though in the begin he and Kenna would be always arguing and despite being an almost insta-attraction – attention to the almost – their romance was sweet and super cute (see what I did there?).
I loved Nitro! This Scottish villain that can throw fireballs was simply delicious. Though he only appears as a main member of the group almost in the middle, I adored him deeply. I blame the fact that his Scottish and had this ironic sense of humour that was contagious.
The plot itself was also very interesting. And I also liked the fact that they failed their rescue a few times before the end. I felt like they were learning a lot from failing and facing their obstacles. It was a fast-paced plot with a lot of action, romance, humour and a few twists that were unexpected – some other ended up being quite expected but it didn't bother me that much.
There was only one particular character that had me doubt her substance in the book. Rebel was hilarious at times but I always felt her slightly pushed aside and her power weak. Plus what happens at the end, it didn't help me care that much for her.
Powerless was a fun, fast, easy and amazing book. This is that sort of book you can almost see as a TV-Series for The CW – it has the potential for it. It had good characters, a good plot, action all the way and super-powers. Great job Tera Lynn Childs and Tracy Deebs, great job!