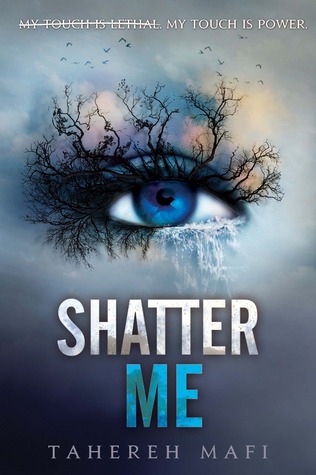 Authors: Tahereh Mafi
Release Date: October 2nd, 2012 (originally November 15th, 2011)
Publisher: HarperCollins
Pages: 340 (paperback)
Format: Paperback
Genre: YA | Dystopia | Sci-Fi
Idiom: English
Series: Shatter Me #1
Read: on June 14 to 17, 2015
Source & Shelf: Paperback | Own
ISBN: 9780062085504 (Paperback)
Cups:

Synopsis

:
Juliette hasn't touched anyone in exactly 264 days.

The last time she did, it was an accident, but The Reestablishment locked her up for murder. No one knows why Juliette's touch is fatal. As long as she doesn't hurt anyone else, no one really cares. The world is too busy crumbling to pieces to pay attention to a 17-year-old girl. Diseases are destroying the population, food is hard to find, birds don't fly anymore, and the clouds are the wrong color.

The Reestablishment said their way was the only way to fix things, so they threw Juliette in a cell. Now so many people are dead that the survivors are whispering war – and The Reestablishment has changed its mind. Maybe Juliette is more than a tortured soul stuffed into a poisonous body. Maybe she's exactly what they need right now.

Juliette has to make a choice: Be a weapon. Or be a warrior.
My Opinion:
Shatter Me is one of those books you have mixed feelings about. I wasn't blown away by it as I had hoped I would. Instead I had these emotions where I really liked the book but at the same time I don't seem to understand what the fuzz is all about. True, Tahereh Mafi's writing was something quite different to read but ends up to be beautiful but there was something in the book that simply didn't conquered me. Still, I enjoyed the idea and the book started to really interest me towards the end. 
Shatter Me tells the story of Juliette who has a strange and deadly power that doesn't allow her to touch anyone. She has been locked up for almost a year and when Adam is thrown into her cell, things take a turn… for the worse and for the better.
To be honest, the book wasn't interesting me that much until the moment when Adam and Juliette escape – yah, sorry about the spoiler here! Since that point onwards till the end, I was totally hooked on the book. But before that, it was hard for me to have sort of connection with Juliette, the protagonist.
Juliette's character sounded really interesting in the beginning but the moment Adam re-enters her life, I found her so emotionally drain and always crying, tears falling down her face and clouding her eyes, etc…. Seriously, the crying bit was all kinds of annoying! I found her so troubled, so confused and so weak at times I wanted to slap her and shake her and tell her to wake up and smell the coffee. Hopefully, now with the developments we got at the end of the book, she might change and I might like her a little bit better. And, fingers crossed, the crying will subside enormously.
Adam was a character I enjoyed straight away (I think it was hard not to!). I had a straight sympathy that made me like him quite instantly. Though I think that his feelings towards Juliette sounded too rushed and too convenient. However, I found him the core of the couple, of their relationship and the only reason that made Juliette stand up. I couldn't imagine this book without him.
A small note: their physical connection was all sorts of hot! That's all!
Warner!! I have to admit that I have no idea what I feel about him. I still have the short-story that everyone says will change my point-of-view towards him to read but, right now, I can only say that he's a psychotic bastard and I want to slap him so hard we won't know from which planet he's from. He brought up all these anguish feelings to the surface and I patiently waited for the moment I would turn the tables and enjoy his character but it never came. It's frustrating… really frustrating! I sincerely hope, wish that's more like it, that he'll change in Unravel Me and prove himself a character with a complicated and troubled soul and I will understand him and adore him and want to hug him. But, for now, I despise him wholeheartedly (though I want to like him…. I really want to. I don't make sense, do I?)
Now, can we talk about Kenji? I adored… no scratch that, I LOVED his character. After Adam, he was the character that made me enjoy the book halfway through the end. He had a great sense of humour and it lightened the mood of the book. Not to mention that after all that Juliette drama, it felt really good to have a bit of comic relief. I dare say that he became one of my favourite secondary characters ever!! I really, but really hope nothing will happen to him or else I'll be utterly upset with Tareheh Mafi, mark my words!
Mafi's writing was slightly hard to follow at first. When you read this book you are literally inside Juliette's head. It really feels like you're reading her thoughts, all that jumble of words thrown into one's head that sometimes feels like two voices at once. I enjoyed the fact that she started as a neurotic not confident character, her words always the right politically corrected ones and that towards the end, she kind of loses her doubts and begins to be sure of herself. All those strike-through words (that sometimes confused and irritated me) kind of disappear the more certain and confident she felt. 
I'm still slightly lost as why Warner wants her so badly. I mean, I know why he wants her but there isn't anything in concrete for him to use her. What is he going to do? Plant her in the middle of a war and ask her to touch people? If he wanted to studied her blood and clone it, I would have found his desire to have her rather interesting. His longing to have her, to almost literally possess her was way over the top for me. Maybe that's just me but I really had a hard time grasping the reason why he wanted her so desperately.
Overall Shatter Me wasn't a disappointment but neither was it a masterpiece. It sure had me interested in reading the sequel and see how Mafi is going to turn the story around – 'cause I really enjoyed the ending! – and also to know a few more details concerning Adam and Warner (especially Warner…. I want to love him so bad but so far I can't seem to even enjoy reading about him! Ugh, it's frustrating, really!).
I recommend this book, of course. It's a really entertaining book with a dystopia world that I really want to explore more in the upcoming books. And I also recommend it so you can all read Tahereh Mafi's way with words. It was indeed different, intriguing and something unique. But for now, it's only an okay book for me. Hopefully the sequel will blow me away.
The best part of the book?! This passage here:
"I spent my life folded between the pages of books.
In the absence of human relationships I formed bonds with paper characters. I lived love and loss through stories threaded in history; I experienced adolescence by association. My world is one interwoven web of words, stringing limb to limb, bone to sinew, thoughts and images all together. I am a being comprised of letters, a character created by sentences, a figment of imagination formed through fiction."