Ladies and Gentlemen… Boys and Girls… 
I am super excited to tell you that Jenny Adams Perinovic (A Magic Dark & Bright) and Taran Matharu (The Novice) are going to be part of my upcoming Falling for Autumn 2.0 Read-a-Thon as guests.
These two authors wrote two of my favourite books from 2015 and it's an honour to know they have accepted my invitation.
This year I have decided to change the tactic concerning my read-a-thon guest-posts. Instead of coming up with ideas and questions of my own, I have thought of a way for YOU to be also part of this initiative. All you have to do is share with me, in the forms I'll leave below, the questions YOU want to ask to either Taran Matharu and Jenny Adams Perinovic… or both. 
The forms will be open throughout August and will close on September 6th. I will be choosing from 10 (ten) to 15 (fifteen) questions per author and then I'll send them. You can ask a minimum of 3 (three) and a maximum of 5 (five) questions per author.
The authors will then send me the answers which I'll post during the read-a-thon – the official post will be live on the blog in September with the schedule and sign-up form.
Now, let's know these two authors first:
Jenny Adams Perinovic:
I'm Jenny Adams Perinovic. I'm a twenty-something writer, library assistant and bookworm. I live just outside of Washington DC with my husband, Eric, and our tiny menagerie.
I've been making up stories for my entire life, and writing for as long as I can remember. In school, I'd fill notebook after notebook with stories instead of paying attention in class. I spent my nights reading books under the covers with a flashlight, until my mother caught on and took the flashlight away.
Now, I spend my days working as a Circulation Specialist in a library. By night, I write YA speculative fiction about brave girls, the boys who love them, and their battles against dark forces. There's always a bit of magic, a bunch of kissing, and a whole lot of spine-tingling creepiness.
Before moving to DC, I graduated from The Ohio State University in 2010 with a degree in Medieval and Renaissance Studies (yes, really) and half of three minors. I love medieval French literature, good books, pretty things, web design, photography, baking, writing, vintage clothes, ballet, and the color purple.
[Bio from Goodreads]
A Magic Dark & Bright
She meant to help a ghost…not unleash a curse.

Amelia Dupree hasn't seen the Woman in White since the night her brother died. 

The ghost seems to have disappeared from the woods surrounding Asylum, Pennsylvania—that is, until Charlie Blue moves into the creepy old MacAllister House next door. Amelia can't help liking him, even though she spent her childhood thinking his grandmother was a witch. And she definitely can't ignore the connection between his arrival and the Woman in White's return. 

Then Amelia learns that the Woman in White is a prisoner, trapped between the worlds of the living and the dead. Devastated by the idea that her brother could be suffering a similar fate, Amelia decides to do whatever it takes to help the Woman in White find peace–and Charlie agrees to help her.

But when Amelia's classmates start to drown in the Susquehanna River, one right after another, rumors swirl as people begin to connect the timing of Charlie's arrival with the unexplained deaths. As Charlie and Amelia uncover the dark history of Asylum, they realize they may have unleashed an unspeakable evil. One they have to stop before everything they love is destroyed.

---
"A Magic Dark & Bright was a captivating and engaging reading. I recommend you to get it if you are looking for a good paranormal YA book that doesn't follow the same pattern as other books within the same genre. Consider this a Beautiful Creatures meets The Woman in Black and then they have a Sweet Unrest baby."
[Read my review here]
I'm so happy to have Jenny Adams Perinovic as part of my read-a-thon. Her book A Magic Dark & Bright is dark and mysterious and probably one of my ultimate favourite from this year. I'm also really happy because my review appears on her blog which makes it even the more exciting. 
So, if you want to ask Jenny anything, now's the time. Leave your question on THIS form and, who knows, your question might be the one 😉
Taran Matharu:
Taran was born in London in 1990 and found a passion for reading at a very early age. His love for stories developed into a desire to create his own during early adolescence, beginning his first book at 9 years old.
Straight after graduating with a First Class degree in Business Administration, Taran was keen to explore a new avenue and get inside the publishing world, landing an internship in Digital Sales at Penguin Random House, from June to September 2013.
Thereafter, while taking time off to travel, Taran began to write 'Summoner' in November 2013 at the age of 22, taking part in 'Nanowrimo 2013'.
Thanks to Wattpad.com and updating daily, its popularity dramatically increased, reaching over 3 million reads in less than six months.
After being featured by NBC News, Taran decided to launch his professional writing career and has never looked back.
His SUMMONER trilogy will be published in Spring 2015 by Hodder Children's in the UK, Australia, New Zealand and British Commonwealth, Feiwel and Friends (Macmillan) in the US and Canada, Heyne in Germany, Crown in Taiwan, Planeta in the Spanish speaking world and Record in Brazil. Book 1 will be published by EKSMO in Russia, Ecliptic in Bulgaria and Alpress in the Czech Republic.
[Bio taken from Goodreads]
The Novice: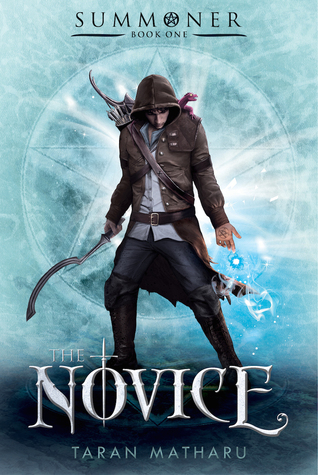 Fletcher was nothing more than a humble blacksmith's apprentice, when a chance encounter leads to the discovery that he has the ability to summon demons from another world. Chased from his village for a crime he did not commit, he must travel with his demon to the Vocans Academy, where the gifted are trained in the art of summoning.

The academy will put Fletcher through a gauntlet of gruelling lessons, training him as a battlemage to fight in the Hominum Empire's war against the savage orcs. Rubbing shoulders with the children of the most powerful nobles in the land, Fletcher must tread carefully. The power hungry Forsyth twins lurk in the shadows, plotting to further their family's interests. Then there is Sylva, an elf who will do anything she can to forge an alliance between her people and Hominum, even if it means betraying her friends. Othello is the first ever dwarf at the academy, and his people have long been oppressed by Hominum's rulers, which provokes tension amongst those he studies alongside.

Fletcher will find himself caught in the middle of powerful forces, with nothing but his demon Ignatius to help him. As the pieces on the board manoeuvre for supremacy, Fletcher must decide where his loyalties lie. The fate of an empire is in his hands …
---
"The Novice was a delightful book filled with everything you can expect from a fantasy book. It was captivating, exciting, interesting, entertaining, fun and simply THAT good! You can expect a battle between orcs, elves and dwarves fighting together for a better world, an orphan boy trying to find his place in the world and a whole bunch of adorable demons that will make you want one for yourself. I will definitely be anxiously waiting for a great sequel to this book."
[Read my review here]
You have no idea just how awesome it is to have Taran Matharu accepting my invitation. The Novice is an amazing fantasy book that I simply loved. And, I know I'm probably bragging about it but the author himself has told me that my review of his book (which now has around 41 likes on Goodreads… say what?!) is still one of his favourites. It warms my heart and makes me so proud of what I do. 
In the meantime, if you want to read more from this author, you can always check out Summoner: Origins on Taran Matharu's Wattpad here. 
Do you have a question to Taran Matharu? Leave your question on THIS form. Maybe you'll come up with the best question I would never thought of 🙂
***
Remember, the maximum is 5 (five) questions per author – you can ask whatever you want. I'll be sending them your questions on September 6th and on Falling for Autumn 2.0 Read-a-Thon all you have to do is keep an eye out on the blog 🙂