Hello everyone!!
I know I haven't actually been updating my Friday Reads but the reason is… well, I actually don't have any! I'd like to think it has to do with the fact that I've spent two weeks reading Northern Lights and I didn't want to share it twice!! Anyway… I'm bringing it back so you guys can see what I'm currently reading.
I just started this book… I actually started this book this morning after finishing my previously book. But I'm super excited about it since I've heard amazing things about it and it's about witches!! Hello?! I LOVE books with witches (hence my username in Twitter and Instagram) and this is a historical one… So, yeah, I'm pretty pumped about it.
Check out what I'm reading this weekend: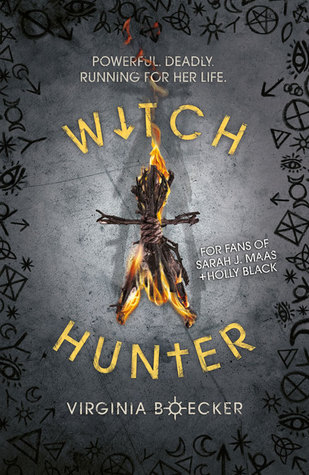 Witch Hunter [The Witch Hunter #1]
Virginia Boecker
Witches, watch out… Half Bad meets Kill Bill in this incredible new supernatural series.
Sixteen-year-old Elizabeth Grey doesn't look dangerous. A tiny, blonde, wisp of a girl shouldn't know how to poison a wizard and make it look like an accident. Or take out ten necromancers with a single sword and a bag of salt. Or kill a man using only her thumb. But things are not always as they appear. Elizabeth is one of the best witch hunters in Anglia and a member of the king's elite guard, devoted to rooting out witchcraft and bringing those who practice it to justice. And in Anglia, the price of justice is high: death by burning.
When Elizabeth is accused of being a witch herself, she's arrested and thrown in prison. The king declares her a traitor and her life is all but forfeit. With just hours before she's to die at the stake, Elizabeth gets a visitor – Nicholas Perevil, the most powerful wizard in Anglia. He offers her a deal: he will free her from prison and save her from execution if she will track down the wizard who laid a deadly curse on him.
As Elizabeth uncovers the horrifying facts about Nicholas's curse and the unwitting role she played in its creation, she is forced to redefine the differences between right and wrong, friends and enemies, love and hate… and life and death.
The first book in an incredible new series set in a fantastical medieval world.
***
Okay… as I mentioned, I just started this and the few pages I read (I'm 2% done so far), I really enjoyed! I admit that my expectations for this one are pretty high so I hope this book won't be a total let down.
In the meantime, let me just tell you what has been going on with my reading! After my almost reading-slump, I picked up Dead Beautiful by Yvonne Woon which I just posted the review – here. I really enjoyed that one and I think it should be read by more people 😉
After Dead Beautiful I picked up Northern Lights by Philip Pullman and it took me forever to finish that book. I almost gave up on it but I really wanted to finish reading it. It's a 3 cups books. I was expecting to be blown away by it but I wasn't but at the same time it wasn't that bad. I'll try to get my review up as soon as possible.
And this morning I just finished Spinning Starlight by R.C. Lewis, which is a sci-fi retelling of The Wild Swans and it was damn good! I admit that I enjoyed Stitching Snow much more but this one was also pretty good!! Again, review to come!
So, that was it! My reading so far this August! I hope to read as much as I can of Witch Hunter this weekend because I cannot wait to pick up Hunter. I decided to pick up Witch Hunter because people voted for that one! After that, I will be following my TBR list as I posted it – here. 
What about you? What are you reading this Friday? Which book(s) will accompany you this weekend?
You can leave me a comment or share what you're reading via Instagram (you can follow me here) and/or Twitter (you can follow me here) by using the following hashtag #FridayReadsandCoffee 🙂