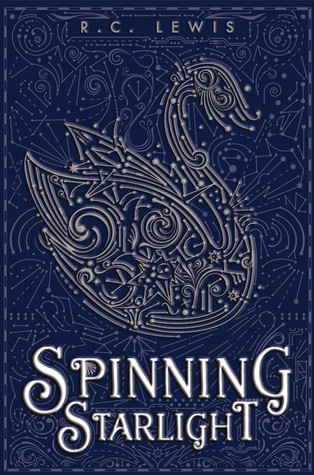 Authors: R.C. Lewis
Release Date: October 6th, 2015
Publisher: Disney Hyperion
Pages: 336 (Hardcover)
Format: PDF
Genre: YA | Sci-Fi | Retelling
Idiom: English
Series: —
Read: from August 9 to 14, 2015
Source & Shelf: NetGalley | Kobo
ISBN: 9781423185154 (Hardcover)
Cups:

 
Sixteen-year-old heiress and paparazzi darling Liddi Jantzen hates the spotlight. But as the only daughter in the most powerful tech family in the galaxy, it's hard to escape it. So when a group of men show up at her house uninvited, she assumes it's just the usual media-grubs. That is, until shots are fired.

Liddi escapes, only to be pulled into an interplanetary conspiracy more complex than she ever could have imagined. Her older brothers have been caught as well, trapped in the conduits between the planets. And when their captor implants a device in Liddi's vocal cords to monitor her speech, their lives are in her hands: One word and her brothers are dead.

Desperate to save her family from a desolate future, Liddi travels to another world, where she meets the one person who might have the skills to help her bring her eight brothers home-a handsome dignitary named Tiav. But without her voice, Liddi must use every bit of her strength and wit to convince Tiav that her mission is true. With the tenuous balance of the planets deeply intertwined with her brothers' survival, just how much is Liddi willing to sacrifice to bring them back?

Haunting and mesmerizing, this retelling of Hans Christian Andersen'sThe Wild Swans strings the heart of the classic with a stunning, imaginative world as a star-crossed family fights for survival in this companion to Stitching Snow.

Disclaimer: Thank you NetGalley and Disney Hyperion for providing me with a copy of this book in exchange for an honest review.
Spinning Starlight was a decent retelling of The Wild Swans though I had quite a few problems with it. Though I enjoyed the story enough to give it a 3 cups, there were moments when I was quite confused with the plot and slightly lost. However, R.C. Lewis is a master when it comes to create science-fiction retellings of well loved and known tales and that, on a whole, is enough to warrant an enjoyable and entertaining reading.
Liddi and her eight brothers are the most famous people on her planet. After their parents death, the children are left with their father's technological enterprise and Liddi, contrary to what people might have excepted, is going to inherit the biggest share of all. Until one day, after a party, strange people appear at her house. Managing to run away and find a secure place, she soon finds out that her brothers are missing. But their disappearance isn't accidental and she soon finds that they are going to the key to something quite important. And that important business lands her on a planet that no-one believed existed and she has to find help or else her brothers will be lost forever as well as her. And all of this without being able to even speak.
I had previously read and loved Stitching Snow so when I came across this book, I had to get it and read it. I had slightly high expectations since Stitching Snow was a phenomenal retelling of Snow White and the Seven Dwarves that had me captivating since the beginning. And I had expected something of that sort with Spinning Starlight.
But, unfortunately, though I enjoyed the book, it didn't hooked me straight away as the previous book did. It was slightly slow in the beginning to get into Liddi's story and mind, to fully understand her voice. Connecting with her took time. And then we had the whole portals/conduits which I still am confused about. The conduits are sort of clones of the original portals that connect the planets. And her brothers are trapped inside the conduits because they are failing and they might stabilise them. The technological, science-fiction bit about these portals was hard to grasp.
I also felt that we didn't know that much about her brother to even care enough for them. Sure, she tells us a lot about them and there are flashbacks at the end of each chapters showing us particular situations of Liddi's life but I still didn't care whether she saved them or not. And in the brief moments we were allowed to "meet" them, I didn't connect.
Liddi gets into this eighth planet no-one believes exists. And it bugged me the fact that they almost immediately trusted her and treated her as an equal – though not everyone. Sure, we don't want too violence, but their leniency was perhaps too obvious. However, I enjoyed Tiav (no idea how to pronounce his name though) enough to overcome that bugging feeling. Still, the relationship between Tiav and Liddi though it wasn't inta-love as in insta-love, it was somewhat insta nevertheless. I felt it too rushed and too precipitate, just a way for the characters to e involved.
Still, I found the writing style beautiful and the whole universe in Spinning Starlight mesmerizing. Somehow I kept seeing landscapes and cities as if I was in Star Wars or even Doctor Who. It's one of the things I appreciate in R.C. Lewis books: the sci-fi universe the author creates is so easy to understand and so well developed you can almost see everything before you.
Other things I enjoyed was the writing lessons between Tiav and Liddi. I liked the fact that the main character didn't know how to write or read because her civilization abandoned these techniques because of technology. I felt like it was an awareness to want might happen if the written and spoken word died: it might save your life in the future if you simply know how to conjugate the words and know their meaning.
This futuristic retelling of the The Wild Swans is both entertaining and enjoyable. The world building was quite impressive and well developed. Though, I think it could have been much more if the conduits/portals issue wasn't so confusing and complicated to keep track. Still, a solid book and quite an amazing writing style.