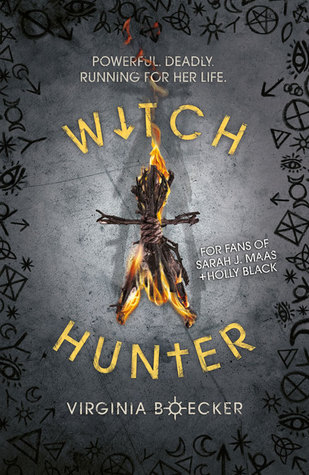 Authors: Virginia Boecker
Release Date: September 21st, 2015 (originally June 2015)
Publisher: Hodder & Stoughton
Pages: 409 (Paperback)
Format: PDF
Genre: YA | Fantasy | Witches
Idiom: English
Series: The Witch Hunter #1
Read: from August 14 to 19, 2015
Source & Shelf: NetGalley | Kobo
ISBN: 9781408335222 (Paperback)
Cups:


Witches, watch out… Half Bad meets Kill Bill in this incredible new supernatural series.

Sixteen-year-old Elizabeth Grey doesn't look dangerous. A tiny, blonde, wisp of a girl shouldn't know how to poison a wizard and make it look like an accident. Or take out ten necromancers with a single sword and a bag of salt. Or kill a man using only her thumb. But things are not always as they appear. Elizabeth is one of the best witch hunters in Anglia and a member of the king's elite guard, devoted to rooting out witchcraft and bringing those who practice it to justice. And in Anglia, the price of justice is high: death by burning.

When Elizabeth is accused of being a witch herself, she's arrested and thrown in prison. The king declares her a traitor and her life is all but forfeit. With just hours before she's to die at the stake, Elizabeth gets a visitor – Nicholas Perevil, the most powerful wizard in Anglia. He offers her a deal: he will free her from prison and save her from execution if she will track down the wizard who laid a deadly curse on him.

As Elizabeth uncovers the horrifying facts about Nicholas's curse and the unwitting role she played in its creation, she is forced to redefine the differences between right and wrong, friends and enemies, love and hate… and life and death.

The first book in an incredible new series set in a fantastical medieval world.
Disclaimer: Thank you NetGalley and Hachette Children's Books/Orchard Books for providing me with a copy of this book in exchange for an honest review.
This book was simply amazing! I had slightly high hopes for Witch Hunter and, guess what? It didn't disappoint me! Not one bit! Actually, it was so much better than what I had expected.
Witch Hunter is about Elizabeth Grey, one of the best witch hunters in the realm. She's sent to jail for a "misunderstanding" and ends up being saved by the most wanted wizard in the world. She has to help him in order to get her freedom but she's then faced with secrets she never thought to be real and her all perspective on witches and magic begins to change.
If you are expecting a kick-butt book filled with amazing characters, magic non-stop and action pace, this is the book to read. In every single chapter there's always emotion and action and the fact that these characters are brilliant only helps the insane plot. Trust me, I fell in love with this book.
Do you know those books that you can't stop thinking about when you're not reading them? Those books with so many great characters you feel you've known them all your life? Witch Hunter was like that for me. Whenever I was running my errands or other boring life things, my mind kept going back to this book wondering what was going to happen and repeating the chapters I had read. I was always eager to return to it and when I did, I was so hooked I couldn't stop reading even if I wanted. So, when a book does that to me it normally means it's one hell of an amazing book.
Elizabeth was an incredible character to read. I loved her development. When we first met her she's too focus only on being a witch hunter and centred on what she was taught all her life. The fact that she begins to change her perspective, that she changes alongside the plot just adds fuel to her already amazing personality. She's not a damsel in distress but has her times of confusion and perplexity just like a normal human being. 
Let'stalk about George shall we? I adored George! The moment he came into scene I immediately clicked with him. Even though there are moments when you are not sure if he has a different agenda, his character had the comic relief necessary to balance the intensity of the book.
His relationship with Elizabeth is simply adorable. They are always bickering each other and I admired their bond. Hopefully he won't be part of a love triangle because I felt that their relationship is more brotherly than romantic.
As for Caleb, I didn't trust him from the start. I can't really put my finger on why but there was immediately something about him that didn't convince me. And I also felt that he was so dissimulate, someone who only wants power. Of course he then had a small act of benevolence towards Elizabeth that was slightly surprising but it still didn't made me like him.
The relationship between Elizabeth and John grew with the book which was something I appreciated. Despite the fact that it was predictable their romance, it wasn't too forced and felt natural and it flew with the action and the plot. 
The rest of the secondary characters were also pretty good. Each added something new to the book and to the plot and Fifer really surprised me. At first I didn't really liked her but she redeemed herself.
I absolutely LOVED this book. It's everything I love in this sort of genre: kick-ass heroins, amazing secondary characters that are as great as the main one, a plot with some epic moments I wasn't expecting (there were quite a lot of them) and a beautiful well written world. Definitely one of my favourites and one of those I will always recommend. Epic!