I am very honoured to be part of Daughter of Dusk, the sequel to Midnight Thief, book spotlight. Livia Blackburne herself has provided an amazing giveaway where you can win awesome prizes and become (if you are not already) a new fan of this astounding fantasy universe.
Unfortunately we had to post-pone this post due to some problems but we finally have it LIVE.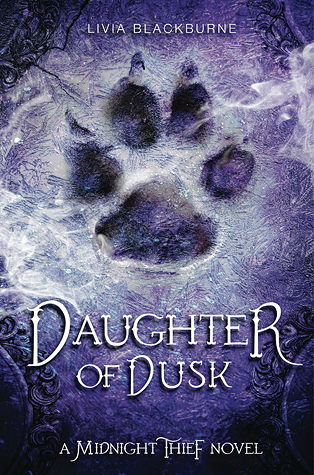 Author: Livia Blackburne
Series: Midnight Thief #2
Publication Date: August 4th, 2015
Genre: YA | Fantasy
The ebook of Midnight Thief will be available for 99 cents from September 10 to 13th.
Buy Midnight Thief: amazon | B&N | TBD
Buy Daughter of Dusk: amazon | B&N | TBD

Synopsis:
*It might contain spoilers to Midnight Thief*
After learning the truth about her bloodlines, Kyra can't help but feel like a monster.
Though she's formed a tentative alliance with the Palace, Kyra must keep her identity a secret or risk being hunted like the rest of her Demon Rider kin. Tristam and the imprisoned assassin James are among the few who know about her heritage, but when Tristam reveals a heartbreaking secret of his own, Kyra's not sure she can trust him. And with James's fate in the hands of the palace, Kyra fears that he will give her away to save himself.
As tensions rise within Forge's Council, and vicious Demon Rider attacks continue in surrounding villages, Kyra knows she must do something to save her city. But she walks a dangerous line between opposing armies: will she be able to use her link to the Demon Riders for good, or will her Makvani blood prove to be deadly?
In this spellbinding sequel to Midnight Thief, Kyra and Tristam face their biggest battle yet as they grapple with changing allegiances, shocking deceit, and vengeful opponents.
---
Midnight Thief:
"Midnight Thief was such an astounding book filled with remarkable characters and a world that will slowly conquer your heart. A fantasy story that I'm sure will be massive for fans of Sarah J. Maas, Trudi Canavan and Kristin Cashore and will endure for years."
Read my review here
---
About the Author –  Livia Blackburne:
Livia Blackburne wrote her first novel while researching the neuroscience of reading at the Massachusetts Institute of Technology.
Since then, she's switched to full time writing, which also involves getting into people's heads but without the help of a three tesla MRI scanner. 
Her novel MIDNIGHT THIEF debuted with Disney-Hyperion in July 2014, and its sequel DAUGHTER OF DUSK came out in August 2015.
Website | Twitter | Facebook | Instagram | Wattpad
---
Giveaway Time:
We are all very pleased to share with you this amazing giveaway provided by Livia Blackburne herself. All you have to do is fill the Rafflecopter on the Raff pic below and fingers crossed you're the lucky winner. Check out what you can win (INT – ends September 13th):
Audiobook of Midnight Thief;

An annotated paperback of Poison Dance;

An early draft of Daughter of Dusk with the author's editorial notes

Assorted signed swag (bookplates, bookmarks);