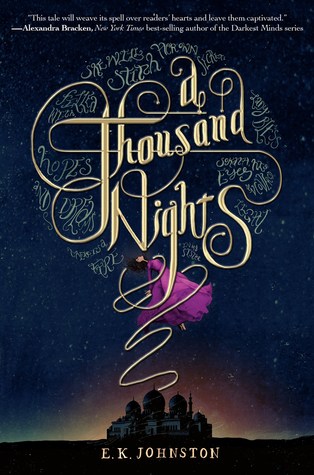 Author: E.K. Johnston
Release Date: October 6th, 2015
Publisher: Disney Hyperion
Pages: 336 (Hardcover)
Format: PDF
Genre: YA | Fantasy | Romance
Idiom: English
Series: —
Read: from September 8 to 21, 2015
Source & Shelf: NetGalley | Kobo
ISBN: 9781484722275 (Paperback)
Cups:


Lo-Melkhiin killed three hundred girls before he came to her village, looking for a wife. When she sees the dust cloud on the horizon, she knows he has arrived. She knows he will want the loveliest girl: her sister. She vows she will not let her be next.

And so she is taken in her sister's place, and she believes death will soon follow. Lo-Melkhiin's court is a dangerous palace filled with pretty things: intricate statues with wretched eyes, exquisite threads to weave the most beautiful garments. She sees everything as if for the last time. But the first sun rises and sets, and she is not dead. Night after night, Lo-Melkhiin comes to her and listens to the stories she tells, and day after day she is awoken by the sunrise. Exploring the palace, she begins to unlock years of fear that have tormented and silenced a kingdom. Lo-Melkhiin was not always a cruel ruler. Something went wrong.

Far away, in their village, her sister is mourning. Through her pain, she calls upon the desert winds, conjuring a subtle unseen magic, and something besides death stirs the air.

Back at the palace, the words she speaks to Lo-Melkhiin every night are given a strange life of their own. Little things, at first: a dress from home, a vision of her sister. With each tale she spins, her power grows. Soon she dreams of bigger, more terrible magic: power enough to save a king, if she can put an end to the rule of a monster.
Disclaimer: Thank you NetGalley and Disney-Hyperion/Disney Book Group for providing me with a copy of this book in exchange for an honest review.
I had a hard time rating this book. Why? Well, I had mixed feelings while reading and even after finishing it. The story was solid and beautiful, but there was something in it that didn't convinced me that much.
A Thousand Nights is a retelling of the famous book One Thousand and One Nights, the story of Scheherazade and how she managed to stay alive by telling stories for that amount of time. I've never read the tales that compose the original source but I know the bases of it and have seen some adaptations. So, when I saw this book and read the premise, I immediately had to get my hands on it.
First of all, I didn't exactly connected with the main character. I found her voice slightly robotic, too stoic and I had troubles focusing on her story. Her storytelling wasn't exactly captivating to me, even though I managed to get into her voice towards the end. However, I did enjoyed the writing style which pretty much reminded me of an ancient tale. It's just that the style didn't matched the character.  
Second, there is one particular thing that made me slightly angry with this book. I don't know about you but I need names! I need a name so I can call the characters, to feel that connection with them. No name to me means no link and in this book we only know a couple of names and none of them is the main character's one. I know, stupid thing to be annoyed at. But it's true.
Regardless of those points, this was a very beautiful story about bravery and placing the others above ourselves. The main character sacrificed herself to protect her sister from being one of the hundreds of girls murdered by the king. She would rather be the one killed at his hands than her sister and that was the beauty of the story for me.
The setting was delicious to read about. The desert, the villages, the palace, the culture. It was amazing. In my mind the whole scenery was rich and filled with colour.
There wasn't an actual romance in this book but I couldn't help but root for a sparkle. Specially when the main character decided to try to break whatever magic was surrounding Lo-Melkhiin (the only character with a name). 
Now, I didn't particularly enjoyed the ending. The desert "fight" was actually pretty amazing but the aftermath was slightly anti-climax.
Overall, A Thousand Nights was a different tale with a beautiful writing style but it did not conquered me that much unfortunately.