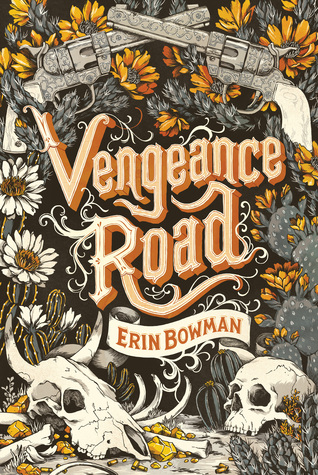 Author: Erin Bowman
Release Date: September 1st, 2015
Publisher: HMH Books for Young Readers
Pages: 336 (Hardcover)
Format: PDF
Genre: YA | Western | Adventure
Idiom: English
Series: —
Read: from September 21 to 25, 2015
Source & Shelf: NetGalley | Kobo
ISBN: 9780544466388 (Hardcover)
Cups:


Revenge is worth its weight in gold.

When her father is murdered for a journal revealing the location of a hidden gold mine, eighteen-year-old Kate Thompson disguises herself as a boy and takes to the gritty plains looking for answers—and justice. What she finds are untrustworthy strangers, endless dust and heat, and a surprising band of allies, among them a young Apache girl and a pair of stubborn brothers who refuse to quit riding in her shadow. But as Kate gets closer to the secrets about her family, a startling truth becomes clear: some men will stop at nothing to get their hands on gold, and Kate's quest for revenge may prove fatal.
Disclaimer: Thank you NetGalley and Houghton Mifflin Harcourt Children's Books Group for providing me with a copy of this book in exchange for an honest review.
For my first western book, I really liked it. It might have opened my appetite for more books within this genre which is always a positive thing. When you read a book out of your comfort zone and it surprises you in a positive way, it's always a wonderful feeling.
Vengeance Road is the story of Kate whose father is murdered and whose thirst for revenge is bigger than anything else in the world. She sets this quest to find the person responsible for her father's death and doesn't think twice about her own safety. Until she comes across these two brothers who struck a deal with her and together they venture out seeking this murderer.
Kate was an amazing character to read. She's definitely a kick-ass heroin, filled with bravery though a little stubborn at times. She's very determined and knows exactly what she wants. Though there were moments when I felt she was being too selfish and reckless, her eagerness for justice made up for every flaw she had. 
Jesse and William were simply adorable. William brought the kind of comic relief the plot needed and Jesse gave the story that mature, less focused on vengeance point-of-view that Kate sometimes missed. The brothers were complete opposites but they filled the story as a whole.
The pace of the book is simply non-stop. As soon as the action begins, you can't stop reading because you're too hooked in it. The writing also helped since it was indeed written as I imagine western people would talk. That added an element of credibility to the story that made it even the more wonderful. Though Western movies are not my favourite genre, I couldn't help but visualise those scenarios we are all so used to identify with this type of story.
There was a twist at the end of the book I surely did not see coming until the right moment. Though the whole mine and gold sub-plot gave the book the well deserved western-ish vibe to it, the main point of this story is vengeance and how far a person can go to seek the right kind of justice, a personal vendetta that Kate has to go through in order to be able to live freely.
Vengeance Road is definitely one of my favourites of the year. With amazing characters that go stronger with each page you turn, a writing style that makes you feel your within the story and a plot that hooks you straight away from the beginning, this book is addictive and captivating. Erin Bowman opened the door for the western genre within the YA community!