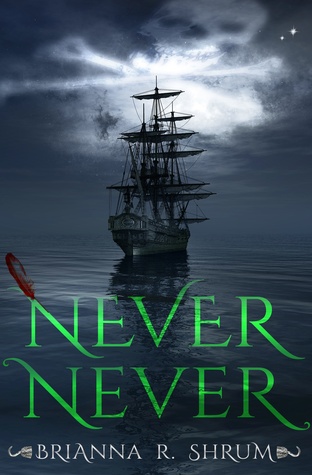 Author: Brianna R. Shrum
Release Date: September 22nd, 2015
Publisher: Spencer Hill Press
Pages: 368 (epub)
Format: epub
Genre: YA | Retelling | Adventure
Idiom: English
Series: —
Read: from September 26 to October 5, 2015
Source & Shelf: NetGalley | Kobo
ISBN: 9781633920392 (Paperback)
Cups:


James Hook is a child who only wants to grow up.

When he meets Peter Pan, a boy who loves to pretend and is intent on never becoming a man, James decides he could try being a child – at least briefly. James joins Peter Pan on a holiday to Neverland, a place of adventure created by children's dreams, but Neverland is not for the faint of heart. Soon James finds himself longing for home, determined that he is destined to be a man. But Peter refuses to take him back, leaving James trapped in a world just beyond the one he loves. A world where children are to never grow up.

But grow up he does.

And thus begins the epic adventure of a Lost Boy and a Pirate.

This story isn't about Peter Pan; it's about the boy whose life he stole. It's about a man in a world that hates men. It's about the feared Captain James Hook and his passionate quest to kill the Pan, an impossible feat in a magical land where everyone loves Peter Pan.
Disclaimer: Thank you NetGalley and Spencer Hill Press for providing me with a copy of this book in exchange for an honest review.
Peter Pan is one of my ultimate favourite classics. It's a book that changed my point-of-view towards growing up and kept my belief in magic and fairies alive when everything seemed to fade due to the cruelty of reality. And, as a person who enjoys pirates, I always had a soft spot for Captain Hook. Who doesn't? So, when I found out about Never Never, I had to try to get it and read yet another background story of this rather misunderstood pirate.
Truth is, Never Never was a quite decent read. I liked it, really enjoyed it but didn't loved it that much. It's a funny and entertaining book about this amazing character but it kind of lacked depth.
In this book, a young James Hook leaves his ordinary life in London to spend a few days holiday in Neverland with none other than Peter Pan. But he's tricked by Pan and he eventually spends more than a few days there… he spends a few years. He's a member of the Lost Boys but never quite fitted in and ends up growing up and being thrown out by Pan. Since a child he dreamt of becoming a pirate so that's exactly what he truly becomes: the fearsome and famous Captain Hook.
Though this book gives us a new insight of the endless possibilities of what Captain Hook's background story was like, it was quite different from the previous retellings I've read so far. In here, Hook's sense of revenge is what triggers his hatred for Peter Pan. He was tricked as a child and he was left in this world made of children's dream and all he wishes is to return to London, to his life and family.
James Hook was a rather nice character to read about but I found him lacking something. I cared enough for him to wish that he would return to London but didn't love him that much. Contrary to other Captain Hook's characters I came across, this one didn't exactly filled my expectations. However, his development was nicely done and it flew with the story.
Peter Pan was simply a douche (pardon my language)! I mean, we all know that Peter Pan has never been the best character in the world and in literature what with his eternal arrogance and childlike manners. But in this book Brianna Shrum created a character that we have no sympathy towards whatsoever. We actually end up hating him so much we wish Hook would really kill him. 
Tiger Lily was the love interest of Hook since he first arrived in Neverland as a child. His crush developed into something like a deep passion. I have to honest, it didn't bother me at all this small twist in the story. However, it did bother me the fact that I didn't like Tiger Lily's character at all. Specially towards the end. She had all these conflicts inside her that I ended up not even caring about her. I felt that she didn't deserve Hook's affection, her girly attitude and endless inner struggles just made me get tired of her.
The writing was easy to read and it flew with the story. Brianna Shrum managed to write Hook's growth in a way that was solid and fluid. His character was very well development and the way his feelings were written were rather beautiful to read. She really does have a talent to describe inner turmoil and feelings. 
I found, however, the end of the book rather rushed though it does feature one of my favourite quotes ever. It didn't exactly felt like an ending but rather like a cliffhanger. There wasn't an actual closure for me in the last chapter.
This was a rather entertaining and fun reading overall. Never Never was a really nice retelling of an endless classic with characters we are familiar with (the Darlings do make an appearance towards the end) and a new way to see this story with new eyes.