As you all know, 2016 has been a pretty difficult and complicated year for me. It has been so hard I barely had the mind to pick up books and read. I'm actually finding in TV-series the refuge I need at the moment which makes me behind my reading challenge. 
I challenged myself to read 50 books this year because I know I won't be able to read that much. So far I've read a total of 3 books and we're already in March. 
However, the books I read had some impact on me and I did enjoyed them quite a lot. So, I decided to share with you those three books. Here they are:
Angels & Demons [Robert Langdon #1]
Dan Brown
Rating: 4/5 Cups
Angels & Demons is my favourite book by Dan Brown. As you all probably know, I have quite of a crush for Robert Langdon which I can't quite explain. I just really like him. The reason I re-read this book has to do with a reading-slump I was facing at the beginning of the year. One of the best ways to end a reading-slump is reading a book you've read before and enjoyed. And since my best-friend gave me this book in English, I decided to actually read it in the original and see how different the Portuguese edition was. It helped me defeat the reading slump a little and I quite missed reading this book. And since Ron Howard is currently in post-production of Inferno, Dan Brown's latest Robert Langdon book, I'm thinking about re-reading his books. That's something I'm still planning but it might be a possibility.
Ruby Red [The Ruby Red Trilogy #1] (Portuguese Edition)
Kersten Gier
Rating: 3/5 Cups
I've been wanting to read this book for a while now but never got around to. My best-friend and my mother read it and weren't that convinced by it so I've been rather reluctant. But then some of Booktubers (Sasha mainly) and some bloggers said quite good things about the book so I thought about giving it a try. Truth is, it was decent enough for me to want the rest of it but it wasn't the best book in the world for me. The main character had quite the sense of humour but the whole time-travel thing was just all over the place. I'm hoping the continuation will clear my confusion and answer a few questions I have.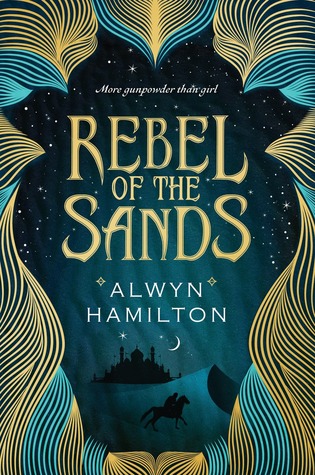 Rebel of the Sands [Rebel of the Sands #1]
Alwyn Hamilton
Rating: 4/5 Cups
I was really happy when I got approved for this title. And I was even happier when the story was simply amazing. I absolutely loved this one. It's that sort of book that hooks from chapter one till the very end and it has its twists and turns but it's so good. I'm really sad that I couldn't write a review for this one but I did leave a small feedback on NetGalley praising the book. Will definitely keep an eye out for the sequel and I highly recommend it to everyone who enjoys fantasy.