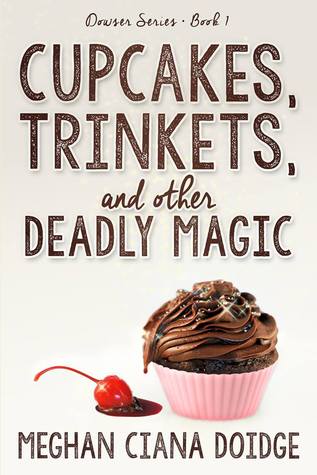 Author: Meghan Ciana Doidge
Release Date: June 21st, 2013
Publisher: Old Man in the CrossWalk Productions
Pages: 232 (epub)
Format: epub
Genre: NA | Urban Fantasy | Witches
Idiom: English
Series: Dowser Series #1
Read: from March 17 to 29, 2016
Source & Shelf: Kindle App | Kindle
ISBN: 9781927850008 (Paperback)
Cups:


If you'd asked me a week ago, I would have told you that the best cupcakes were dark chocolate with chocolate cream cheese icing, that dancing in a crowd of magic wielders — the Adept — was better than sex, and that my life was peaceful and uneventful. Just the way I liked it.

That's what twenty-three years in the magical backwater of Vancouver will get you — a completely skewed sense of reality. Because when the dead werewolves started showing up, it all unraveled … except for the cupcake part. That's a universal truth.
Cupcakes, Trinkets, And Other Deadly Magic was a rather easy, fast and entertaining read that really helped me get out of a reading-slump. It's a sort of guilty pleasure to read a urban fantasy book with witches and vampires and werewolves and sometimes that's all you need to help you ease your mind. But add cupcakes to it and it makes it even the more interesting.
This story follows Jade in her normal routine as a baker on her own cupcake store and how her magic is to sense others magic. But all changes when a vampire comes knocking on her life and a series of murders will make her know the truth about a lot of things in her life. Things are not exactly what they seem and she has to face it blindly.
I was immediately drawn to Jade. She was an extremely funny character to read about and to meet. I dare say she was the main reason I liked this story so much. There was so much I could relate myself to her and so much more I wish to know. I felt like I was reading the story of a friend instead of a fictional character.
The main plot was easy enough to read a follow and it hooked you right away. You have magic and all the supernatural apparatus and it all makes the story far more interesting than you'd initially think. Also, the way Meghan Ciana Doidge inserts small bits of descriptions by using food, in this case chocolate all that makes a cupcake tasty, was extremely clever.   
Even though the story was fun and interesting, it was also slightly predictable. Before the real murderer was announce I already knew who it was so it wasn't that big of a surprise. Though now I am curious to see how the story is going to evolve.
Still, predictable or not, Cupcakes, Trinkets, and Other Deadly Magic was a great read and the sort of book that will make you enter a brand new world and get lost within it.