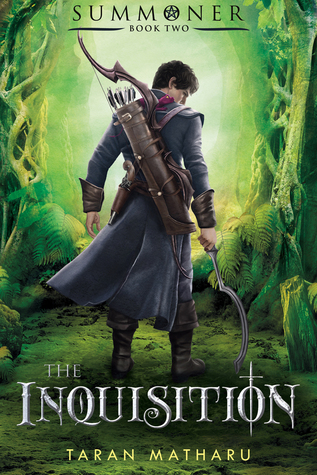 Author: Taran Matharu
Release Date: May 5th, 2016
Publisher: Hodder Children's Books
Pages: 400 (Hardcover)
Format: PDF
Genre: YA | Fantasy | Magic
Idiom: English
Series: Summoner #2
Read: from April 12 to 18, 2016
Source & Shelf: NetGalley | Kobo
ISBN: 9781250076311 (Hardcover)
Cups:


More demons, epic battles, and fights to the death: introducing the unmissable next installment in the Summoner Trilogy…

On trial for a crime he did not commit, Fletcher must face the Inquisition who will decide his future – the process is gruelling, lead by those who will do anything to see him suffer and haunted by ghosts from the past with clues to Fletcher's tragic origins.

But Fletcher has little time to dwell on these new revelations when the king announces a deadly challenge to the graduating students at Vocans. One that involves entering Orc territory to complete a risky mission. With loyal demons by their sides, commoners and nobles, dwarves and elves must overcome barriers of class and race and work together to triumph. The reward: a fortune in gold, the safety of an empire and PEACE.

With the entire empire watching, Fletcher has much to prove, but there are those out to get him and it soon becomes clear that there's a traitor in their midst, trying to thwart the mission and create unrest within the Empire.

With everything stacked against him, Fletcher must use everything in his power to fight his way to victory.
Disclaimer: Thank you NetGalley, Macmillan Children's Publishing Group and Taran Matharu for providing me with a copy of this book in exchange for an honest review.
THIS BOOK! Seriously guys… THIS BOOK WAS SO FREAKING AMAZING!!! 
Side note: I knew when I read The Novice that we would expect great things from Taran Matharu! And I was right!!! 
Just like The Novice, I'm pretty sure The Inquisition will be yet another favourite from Taran Matharu. This series just keeps getting better and better! 
Okay, now for a coherent review instead of me rambling about how awesome this was. Because, trust me, it was THAT awesome!
The Inquisition is the second book in the Summoner series and it's set one year after the events of The Novice. We continue following Fletcher's journey with his adorable and cute demon Ignatius as they try to save Hominum.
The book begins with Fletcher facing the consequences of what happened during book one. I loved how Taran Matharu used the beginning of The Inquisition and Fletcher's trial to remind us of what happened during The Novice. It was so clever and so well planned. Just brilliant!
Not wanting to spill the beans about the book because of spoilers, I'm going to resume by saying that stuff happened and Fletcher and his friends have to travel to enemy territory in order to complete a mission.
And, oh boy, that's when the book begins to get so but so good! So freaking good! From halfway through till the end of the book I was so engrossed in the story I actually sweated in fear of what was going to happen. I kid you not!
We also get to know more about Fletcher's past and who his parents really were. We are slowly beginning to understand more about his roots and his identity and it made Fletcher's character develop ans grow in such a nice way. Because, trust me, all the characters in this book grew up so much and were very well developed. You can clearly see how they are the same but their perspective of life changed with their mission.
This mission really make them use their skills and magic and having the opportunity to read/see it in action was amazing. You can notice how well crafted and executed everything was.  
Some new characters, demons and magic are introduced. Cress was an amazing dwarf and she brought a brand new comic relief equal to Othello but in a different tone. The chance to get deeper into the dwarven and elven world was really well thought. I loved getting the opportunity to see and get to know more elves than Sylva.
As for the demons, I fell in love with Athena (I'm not going to tell you to whom she belongs to) and I kept picturing an hybrid Hedwig in my mind whenever I read about her.
Also, a shout out for Atilla's demon! I cannot wait for fan edits and art to appear of his demon. Because from Taran Matharu's description, the demon is simply breathtaking.
There was a small twist at the end that I only saw coming towards the great reveal. And another one right at the end of the book, before the cliffhanger, that made me gasp in total surprised. Did not see that one coming AT ALL! 
Taran Matharu's writing continued to amaze me. I cannot explain to you how effortless and beautiful his writing his. It's so easy for you to dive into his writing and simply get lost in this universe he created. And though a few elements of his fantasy kind of reminds you of others, just his writing makes it feel rather unique. I will repeat myself by saying I could read his writing without ever getting tired of it.
Overall, this was an amazing fantasy series that I cannot recommend enough to all of you. Filled with adventure, amazing characters, a beautiful writing and a story that hooks you straight away, The Inquisition manages to be even better than its already awesome predecessor The Novice. It delivers everything you wished for when you started reading the series and much, much more. A perfect blend for fans of The Hobbit/The Lord of the Rings, Harry Potter and Eragon. A simply astounding sequel. 
I can't wait to see what Taran Matharu is going to deliver with the third book but I can already guess it'll be such as good.
I also want to thank Taran for contacting me so I could get an e-arc of the book. That means a lot to mean. So; THANK YOU!