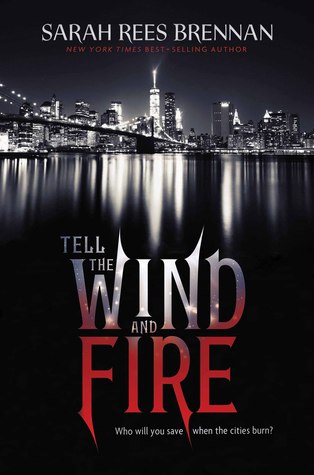 Author: Sarah Rees Brennan
Release Date: April 5th, 2016
Publisher: Clarion Books
Pages: 360 (Hardcover)
Format: epub
Genre: YA | Urban Fantasy | Magic
Idiom: English
Series: —
Read: from May 14 to 29, 2016
Source & Shelf: NetGalley | Kobo
ISBN: 9780544318175 (Hardcover)
Cups:


In a city divided between opulent luxury in the Light and fierce privations in the Dark, a determined young woman survives by guarding her secrets.

Lucie Manette was born in the Dark half of the city, but careful manipulations won her a home in the Light, celebrity status, and a rich, loving boyfriend. Now she just wants to keep her head down, but her boyfriend has a dark secret of his own—one involving an apparent stranger who is destitute and despised.

Lucie alone knows of the deadly connection the young men share, and even as the knowledge leads her to make a grave mistake, she can trust no one with the truth.

Blood and secrets alike spill out when revolution erupts. With both halves of the city burning, and mercy nowhere to be found, can Lucie save either boy—or herself?

Celebrated author Sarah Rees Brennan tells a magical tale of romance and revolution, love and loss.
Disclaimer: Thank you NetGalley and Houghton Mifflin Harcourt Children's Book Group for providing me with a copy of this book in exchange for an honest review.
I wanted to really like this book, I really but really wanted to but unfortunately it didn't conquer me the way I had expected it to. When I first read the synopsis I was immediately drawn to this story and since I have never read any book by Sarah Rees Brennan and everyone seemed to love her books, I was super excited to finally be able to read it. But, as I mentioned, it was one of those books you simply couldn't enjoy despite it all.
Tell the Wind and Fire is a sort of retelling. Sarah Rees Brennan picked up Charles Dickens 'A Tale of Two Cities' and created a brand new urban fantasy story set in modern New York city. But with a twist; the city is divided between Light and Dark magic. And that was exactly what made me want to pick up the book. But the world building and the magic felt complex and so intricate I couldn't actually grasp its concept. I was rather confused by what made a person use Dark or Light magic and how it all really worked. And I also think that the fact that this book was set in modern time also didn't help. I think I could have appreciated it more if it was set in a different time period.
However, there was one particular thing about the Dark magic that was actually really interesting and one of the reasons I managed to continue reading this book. The doppelgängers, magically created twins of Light people. A person uses a Dark magician power in order to create a doppelgänger to save some else's life. And the whole idea of having Dark twins was rather exciting.
The story is about Lucie, the Golden Thread in the Dark, a Dark inhabitant who managed to move to the Light part of the city after rebelling against her father's imprisonment. She's dating one of the Light Council member's son, Ethan, and she's a sort of celebrity. Together, Lucie and Ethan are a powerful couple. Until one night Ethan is accused of selling information to the sans-merci, a band of radicals, and they find out that Ethan has a doppelgänger named Carywn.  
The characters, especially Lucie, felt flat and I couldn't connect  with her. She sounded to repetitive at times and a little bit contradictory. Her relationship with Ethan was perhaps too perfect and I didn't actually felt their chemistry. And when Carywn appeared in her life, even though she never once faltered in her feelings towards Ethan (and that as one positive point about her), I couldn't really care about her.
Ethan was perhaps one of the few characters I could feel something towards. But, just like Lucie, he felt flat and too innocent. As for Carywn, I did liked him at first when he saved Ethan. He was quite the opposite of Ethan, much darker and mysterious. I really like what he did in the end of the book though. He was the most developed character in the book for me, at least as a character that you could see some kind of growth. 
This book had some amazing quotes. I kept highlighting sentence after sentence. Even though the book is told by Lucie, there were moments when she managed to surprise me with her point-of-views. Sarah Rees Brennan surely knows how to add a few quotes that makes us think about stuff or simply stop and say "wow, that was beautiful and deep!". Here are a few examples:
"When you are broken and someone puts you back together, there isn't any way to repay that."

"This was death triumphant, walking among the living."

"Love was the mystery nobody could solve, the fairy tale everyone loved to listen and not quite believe in."

"Trying to make a difference meant that you risked doing harm."
I've never read A Tale of Two Cities and despite the fact that this book didn't convince me, I am now curious to see how Sarah Rees Brennan picked up the original tale and transformed it into this book.
Overall, Tell the Wind and Fire wasn't perfect and it wasn't one of my favourite. The political aspects of the book were well written and explored but the lack of proper characters and their flatness, plus the complexity of the magic surrounding this book just didn't add up to make this a good reading. But I will definitely give Sarah Rees Brennan another shot… just because I didn't like one of her books doesn't mean I'm giving up on her completely. And since she's a loved author, she deserves another chance. But Tell the Wind and Fire wasn't exactly my cup of coffee (see what I did here?!)