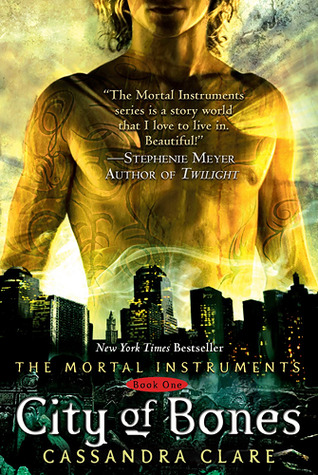 Author: Cassandra Clare
Release Date: February 19th, 2008
Publisher: Margaret K. McElderry Books
Pages: 485 (Paperback)
Format: Paperback
Genre: YA | Urban Fantasy | Paranormal
Idiom: English
Series: The Mortal Instruments #1
Read: from April 2016
Source & Shelf: Bought | Own
ISBN: 9781416955078 (Paperback)
Cups:


When Clary Fray heads out to the Pandemonium Club in New York City, she hardly expects to witness a murder. Much less a murder commited by three teenagers covered with odd markings. This is Clary's first meeting with the Shadowhunters, warriors dedicated to ridding the earth of demons–and keeping the odd werewolves and vampires in line. It's also her first meeting with gorgeous, golden-haired Jace. Within twenty-four hours Clary is pulled into Jace's world with a vengeance, when her mother disappears and Clary herself is attacked by a demon. But why would demons be interested in an ordinary mundane like Clary? And how did she suddenly get the Sight? The Shadowhunters would like to know….
This was the third time I read this book and whenever I pick it up, it simply gets better! I'm pretty sure I won't be able to contribute with anything new to this review but I decided to try nevertheless.
One of the reasons I have decided to pick up this book again and challenged myself to read both The Mortal Instruments and The Infernal Devices this year has to do with the TV-show Shadowhunters. Now, I know the series is completely different from the books and it's a bit cliche and the acting isn't the best but the main reasons I stuck to it was Malec and Simon. Yes, I continued watching the series because of Alec Lightwood, Magnus Bane and Simon Lewis! For me, these were reasons that made the show at least bearable for me.
So, because I was literally falling in love with Malec relationship in the series and was loving Simon as a vampire, I have decided to pick up the series and read their story. So, yes, I re-started reading the series because, and solemnly because, of them.
I'm pretty sure I don't need to resume the story of City of Bones. We all know it's about Clary who is literally thrown into this new world were demons, vampires, angels and whatnot are real. And then she finds out she's a Shadowhunter and everything is turned upside-down and her life simply changes.
One of the things I really enjoy about these books is Cassandra Clare's writing. It's super effortless and fast-pace. You start reading her books and you're immediately hooked not only by the story but also by her writing. The story is gripping and the characters manage to add their own touch to it. Though City of Bones is mainly told through Clary's perspective, you can definitely see yourself as part of the adventure. I don't know about you but the moment I finished this book, I was immediately connected to these character as if I knew them all my life. They are so well created, and later on developed I can't really say they are only characters but, in my mind, they are so real I could pretty much call on Alec and have him roll his eyes on me.
The whole Shadow World was also so well created. In City of Bones you pretty much have only a glimpse of how deep this supernatural world is.
City of Bones is the first gripping and exhilarating ride in The Mortal Instruments series. Cassandra Clare sure did created an amazing first book in what I'm hoping to be an awesome series.
Looking forward to finish this series. 

Author:

 Cassandra Clare
Release Date: July 7th, 2008 (originally March 28th, 2008)
Publisher: Walker Children's Paperbacks
Pages: 4115 (Paperback)
Format: Paperback
Genre: YA | Urban Fantasy | Paranormal
Idiom: English
Series: 

The Mortal Instruments #2


Read: from April 27 to May 16, 2016
Source & Shelf: Bought | Own
ISBN: 9781406307634 (Paperback)
Cups:



Clary Fray just wishes that her life would go back to normal. But what's normal when you're a demon-slaying Shadowhunter, your mother is in a magically induced coma, and you can suddenly see Downworlders like werewolves, vampires, and faeries? If Clary left the world of the Shadowhunters behind, it would mean more time with her best friend, Simon, who's becoming more than a friend. But the Shadowhunting world isn't ready to let her go — especially her handsome, infuriating, newfound brother, Jace. And Clary's only chance to help her mother is to track down rogue Shadowhunter Valentine, who is probably insane, certainly evil — and also her father.

To complicate matters, someone in New York City is murdering Downworlder children. Is Valentine behind the killings — and if he is, what is he trying to do? When the second of the Mortal Instruments, the Soul-Sword, is stolen, the terrifying Inquisitor arrives to investigate and zooms right in on Jace. How can Clary stop Valentine if Jace is willing to betray everything he believes in to help their father?

In this breathtaking sequel to City of Bones, Cassandra Clare lures her readers back into the dark grip of New York City's Downworld, where love is never safe and power becomes the deadliest temptation.
City of Ashes is the second book in The Mortal Instruments series and I really enjoyed continuing this series and learning more about Valentine's plans and see some of the secondary characters play a bigger role this time.
One of the things I found that this book had and I didn't quite enjoyed it was Clary's and Simon's relationship. It was obvious that Clary only cared about Simon as a friend and found her sudden interested in him quite far-stretched. Like, it was a way for her to forget about Jace and what she felt about him.
The fact that you also get a glimpse of what lies further in the Shadow World helped me establish a strong connection to characters who only appear briefly in this book. Also, the hint at something more about Jace and Clary, their power and who they are was brilliant introduced.
Simon's transformation into a vampire was the highest moment for me in the book. As I mentioned on my City of Bones mini-review, he was one of the reasons I decided to pick up the series and he surely doesn't disappoint. He starts playing a major role in the series and not only as Clary's best-friend but this time as a Downworlder.
The action was on point, leaving me on the edge of my sit. City of Ashes was a wonderful sequel to City of Bones.
Now bring me book three!

Author: Cassandra Clare
Release Date: July 6th, 2009 (originally March 24th, 2009)
Publisher: Walker Books
Pages: 508 (Paperback)
Format: Paperback
Genre: YA | Urban Fantasy | Paranormal
Idiom: English
Series: The Mortal Instruments #3
Read: from June 3 to 10, 2016
Source & Shelf: Bought | Own
ISBN: 9781406307641 (Paperback)
Cups:


To save her mother's life, Clary must travel to the City of Glass, the ancestral home of the Shadowhunters – never mind that entering the city without permission is against the Law, and breaking the Law could mean death. To make things worse, she learns that Jace does not want her there, and Simon has been thrown in prison by the Shadowhunters, who are deeply suspicious of a vampire who can withstand sunlight.

As Clary uncovers more about her family's past, she finds an ally in mysterious Shadowhunter Sebastian. With Valentine mustering the full force of his power to destroy all Shadowhunters forever, their only chance to defeat him is to fight alongside their eternal enemies. But can Downworlders and Shadowhunters put aside their hatred to work together? While Jace realizes exactly how much he's willing to risk for Clary, can she harness her newfound powers to help save the Glass City – whatever the cost?

Love is a mortal sin and the secrets of the past prove deadly as Clary and Jace face down Valentine in the third installment of the New York Times bestselling series The Mortal Instruments.
Now I understand why this seems to be everyone's favourite book in the series. Now I picked it up and read the whole action in Idris, I also have to admit this being my favourite in The Mortal Instruments!
First, the fact that we get to know the Shadowhunters famous Glass City was amazing. We trade the same old city of New York for a beautiful city filled with glass towers, what seem to be old houses (like Victorian sort of houses) and endless historical places in Alicante. I loved the descriptions of every single one of the places we encounter in this book.
Second, we finally get some answers! Freaking finally! Pretty much everything we needed to know is explained and answered in this book. And the most important question of all; are Clary and Jace really siblings?  
Then, we get to know more and more characters. Luke's sister, Aline, the new Inquisitor, the Consul, Sebastian! A bunch of new characters to add more spice to the plot.
Ans speaking of it, Sebastian!! I try to stay away from spoilers but of course I knew that Sebastian was a very important character in this book. And, let me tell you, I hated him with all my guts! As soon as I met him I immediately disliked him! And then finding out his real identity, who he really is and what… I admit some of the things I found out about him I did not see coming. Though the most important of all I did see 😉
There were two deaths in this book that broke my heart! Yes, even the first one! I knew about the second because the Internet is filled with spoilers and even though you try not to read them, you always end up being spoiled unintentionally. But the first one was unexpected! I had hopes that that character would redeem himself or something… never that he would die like that! As for the second one… WHY?!
Clary and Jace kind of annoy me sometimes in this book. I know their feelings are a mess and they have no idea what to do but their constant struggle, their constant whining about it sometimes tired me. And Jace was a bit of a pain-in-the-ass at times. 
Of course that in this book we have the moment we all have been waiting for. At least I was! MALEC!!! I wish there were more scenes with Alec and Magnus but the ones I had were so freaking adorable and beautiful and my OTP is the best!
This book was super action paced, there were almost no time to take a deep breath before something happened. Every bit of discovery is relevant to the plot and everything single character plays a role in the action.
Not wanting to dwell too much on this review because there's still three more books in the series and a lot more will definitely happen, City of Glass was the best so far in the series. I couldn't put it down because whenever I did, I wanted to jump back into the story and see what was going to happen.
This is definitely a series to read if you like urban fantasy. It has romance, supernatural creatures, friendship, and much more. I'm so glad I've decided to finally read this series. I do not regret this decision!