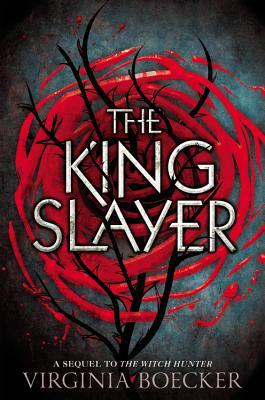 Virginia Boecker
Release Date: June 14th, 2016
Publisher: Little, Brown Books for Young Readers
Pages: 368 (Hardcover)
Format: Ppaperback
Genre: YA | Fantasy | Witches
Idiom: English
Series: The Witch Hunter #2
Read: from June 16 to 20, 2016
Source & Shelf: Sent by Author | Own
ISBN: 9780316327237 (Hardcover)
Cups:


"I think, in time, you'll either be my greatest mistake or my greatest victory."

Former witch hunter Elizabeth Grey is hiding within the magically protected village of Harrow, evading the price put on her head by Lord Blackwell, the usurper king of Anglia. Their last encounter left Blackwell ruined, but his thirst for power grows stronger every day. He's readying for a war against those who would resist his rule—namely Elizabeth and the witches and wizards she now calls her allies.

Having lost her stigma, a magical source of protection and healing, Elizabeth's strength is tested both physically and emotionally. War always means sacrifice, and as the lines between good and evil blur once more, Elizabeth must decide just how far she'll go to save those she loves.
*This review might contain spoilers*
Disclaimer: I won this book on a giveaway hosted by the author herself, Virginia Boecker. Thank you for providing me with a copy of this book.
The King Slayer is the sequel to The Witch Hunter, one of my favourite books from 2015. I loved the first book, so my expectations for the second book were slightly higher than usual. And let me tell you, it surpassed all expectations!
In this book we continue Elizabeth's story as an old with hunter whose life was turned upside down after being accused of witchcraft. By helping the most wanted wizard in the kingdom and by finding out her role in all of it, Elizabeth begins to understand that nothing is exactly as it seems. In The King Slayer, after the events of the first book, she's faced with some serious decisions that might kill her or those she cares about.
One of the things I loved about this book was how many of the small details from the first book play a major role in this one. And some characters that are only mentioned, happen to be important to the future of the kingdom.
I thought that Elizabeth's character developed in such a slow and amazing pace. In the first book she's thrown into a conspiracy that was against pretty much everything she believed in. In this one, after everything that happened, she's careful to analyse people and consequences, always putting the others first and trying her best to save her friends. Though at times she was slightly reckless and perhaps a little bit too blind, I loved how human, brave and courageous she was.
John's character broke my heart at times throughout the book. The fact that he's carrying Elizabeth's stigma (what used to heal her when she was a witch hunter), the fact that its magic is in conflict with John's healing abilities, makes him a completely different person, someone who doesn't care about anything else but end Blackwell's reign. And it was terrifying how much he had to battle against it and pretty much on his own. The way he treated Elizabeth was so heartbreaking I felt sorry for her.
I missed George in this book. If you guys remember my review for The Witch Hunter, I mentioned that I loved his character, that he was my favourite in the book. And I was hoping to have more of him, to have his comic-relief in Th King Slayer but unfortunately his role played a role outside the kingdom and he only appeared right at the end. And I missed him so much! I'm hoping to have a novella solemnly dedicated to him because he is one of the best characters in this amazing universe.
There were two twists in this book that had me stop reading and basically stare at the book not believing what I was reading. Actually, there was one particular twist that I had theorised about but never thought would actually happen. And when it did, I did not see that result coming.
Virginia Boecker's writing is always effortless and so easy to read, her description of Elizabeth's feelings and thoughts so well crafted you feel such a strong connect to each and every single character.
A few twists and turns made me gasp and hooked in the book since page one, such as the first book did. The action had me on the edge of my sit and the whole plot developed slowly and at the right pace.
Overall, The King Slayer was an amazing sequel and an awesome book. Filled with action, characters that I have a connection with and love dearly, magic, fantasy, romance and friendship. This is the sort of book I love to read, that has everything I love and will always cherish and treasure.