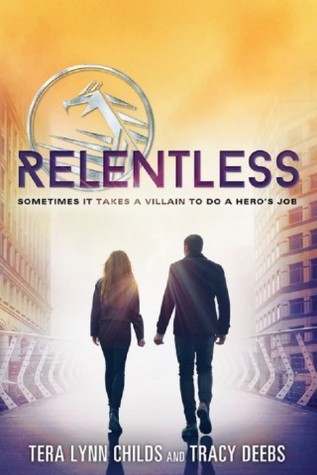 Author(s): Tera Lynn Childs & Tracy Deebs
Release Date: June 7th, 2016
Publisher: Sourcebooks Fire
Pages: 288 (Hardcover)
Format: PDF
Genre: YA | Superheroes | Sci-Fi
Idiom: English
Series: The Hero Agenda #2
Read: from June 20 to 27, 2016
Source & Shelf: NetGalley | Kobo
ISBN: 9781492616610 (Hardcover)
Cups:


Revenge is easy, but justice is worth fighting for…

Kenna is tired of being lied to—and hunted by the very allies she once trusted. Unearthing the dark secrets of the superhero world has not only endangered her life, now her boyfriend faces execution for crimes he didn't commit and her mother is being held captive in a secret governmental prison.

Kenna is determined to stand up for what's right and save those she loves from unspeakable fates. It's time for the betrayal to end. It's time for the real criminals to face justice.

But the truth is even more terrifying than Kenna could imagine. A conspiracy threatens the fate of heroes, villains, and all of humanity. If Kenna's going to survive, she must draw on her deepest strength: her resilience. Because when Kenna's pushed to the limit, she doesn't break down. She fights back.
Disclaimer: Thank you NetGalley and Sourcebooks Fire for providing me with a copy of this book in exchange for an honest review.
Relentless is the second book and conclusion to The Hero Agenda duology. And, if you remember my first review, I really enjoyed the concept of this superheroes vs. villains series. Powerless was, overall, a great introduction to a brand new YA series and I'm glad to see that Relentless was also good.
Well, it did dragged a little bit but it was a great sequel nevertheless!
In this book we continue following Kenna and her group of villains and superheroes in order to overthrow the bad guy. Not wanting to dwell too much in the plot since it'll pretty much spoil the first book, let's just say that this one centred more in wanting to stop someone from doing something despicable to the whole world and, in the meantime, to save someone. I know, it sounds like the plot of every single YA book but let's not forget that this is a sequel.
The characters in this book changed somewhat since Powerless. Kenna suffers quite a lot in this book – no spoilers, I promise – and I admit feeling pretty bad for her. Right in the beginning of the book she has two twists and turns that affected her emotionally. But I admit that she managed to endure quite a lot throughout Relentless and her bravery was, at times reckless but a way for her to cope with what she had to do. Instead of whining about how much in pain she was, she channelled it into action in order to save the world.
And of course that being finding a few truths, she finds out a lot more about herself. And there was one particular part I really enjoyed and that I did not see coming at all. In a way it makes sense and was a huge step towards Kenna decision to stop someone from hurting peoples. And it made her even stronger than she previously was.
Rebel, a character I had no connection in the first book changed and I admit beginning to like her a little bit more in this one. But there is something in her that I can't quite put my finger on that makes me not particularly like her though she's a great friend. I think she's just one of those characters you can't really care for (it happens!).
Draven's character was, in my opinion, the character that didn't change that much. He was the same though his mind was perhaps affected by the events of the end of book one. His relationship with Kenna continued to be sweet and adorable and I know he was the rock that held her together.
I have to say this: I continue to FREAKING LOVE Nitro! And in this book we have a new character that opens up Nitro's character a little bit more. Not only is he Scottish, a villain but his love interest was not who I had expected. And I loved it. I love really love to have a novella solemnly about Nitro!
Even though there was not a single moment in the book where the characters could take a deep breath without running for their lives, I found that there were moments were the plot dragged slightly. Not as in nothing happening but as in Kenna's inner struggles in dealing what was happening too repetitive and tiring! That is one of her major flaws: she repeats herself a lot! She has a thought in a chapter and in the next one she repeats it.
I found this plot engaging and truly action-paced. And I remember mentioning on my first review that I loved the fact that these characters failed at their attempts and I was glad to see it continued in Relentless. They are not the bunch of people that have a plan and can make it work with no problems whatsoever. They fail and it shows they have flaws and there's nothing better than reading about flawed characters! It makes them human in a super world.
Relentless had a lot of twists and turns that I was not expecting (a few minor ones that were predictable though). From the plot to characters to actions, I was hooked and eager to read more and more.
This book was the conclusion of Kenna's story but the authors certainly let the door open in the end. They didn't disregard the possibility of more books set in this world and I like the idea of visiting this universe in the future (though I still want a book about Nitro first!). And their writing was so easy to read, Kenna's voice sarcastic when needed to be and hilarious at the same time.
Relentless was an amazing book despite its flaws (dragging, a few things concerning secondary characters being perhaps too predictive). It had action, science-fiction, superheroes and villains, good vs. evil, friendship and romance and much more. The Hero Agenda was a great duology by Tera Lynn Childs and Tracy Deebs and it's the sort of book I could easily see as a TV-series. Definitely a series I enjoy and will continue reading if the authors release more stuff!