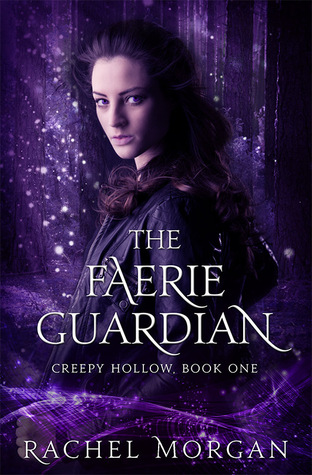 Author: Rachel Morgan
Release Date: Octoer 27th, 2012 (originally April 5th, 2012)
Publisher: Rachel Morgan
Pages: 298 (epub)
Format: epub
Genre: YA | Urban Fantasy | Fairies
Idiom: English
Series: Creepy Hollow #1
Read: from June 27 to May 1, 2016
Source & Shelf: Kindle App | Kindle
ISBN: 9780994667908 (Paperback)
Cups:


Enter a hidden world…

Protecting humans from dangerous magical creatures is all in a day's work for a faerie training to be a guardian. Seventeen-year-old Violet Fairdale knows this better than anyone—she's about to become the best guardian the Guild has seen in years. That is, until a cute human boy who can somehow see through her faerie glamor follows her into the Fae realm. Now she's broken Guild Law, a crime that could lead to her expulsion.

The last thing Vi wants to do is spend any more time with the boy who got her into this mess, but the Guild requires that she return Nate to his home and make him forget everything he's discovered of the Fae realm. Easy, right? Not when you factor in evil faeries, long-lost family members, and inconvenient feelings of the romantic kind. Vi is about to find herself tangled up in a dangerous plot—and it'll take all her training to get out alive.
It's is one of those books you had no expectations whatsoever but managed to actually surprised it. Though it has its flaws, I ended up enjoyed The Faerie Guardian more than what I anticipated. Which is always a great surprise to be honest. Who doesn't like to be surprised by a book?
The Faerie Guardian is about Violet, a fairy who is training to become a guardian. During one of her assignment, she's followed to Creepy Hollow, her forest, by a human boy. And that was one of the main and biggest rules in her world. But when she's about to bring him back to his world, they end up being kidnapped and a lot more follows after that event that will make Violet realise that there is more about this human boy than she thought. Not to mention that she has a rare gift that is being haunted down for evil proposes.  
It's an easy story to follow but it sure begins to get complicated as you read the book. What I thought was going to be the main plot, ends up being pushed aside to give another story the centre stage and I enjoyed that particular aspect of this book quite a lot.
Violet was a nice character to met. She's funny, sarcastic and a kick-ass young girl with a determined goal set: to become a guardian. When she meets Nate, the human boy she was assigned to protect from a evil creature, she breaks the rules and pretty much jeopardises her chances at finishing her training first. And that was perhaps the only think about Violet I didn't enjoy the most.
Well, to be honest, their relation was mainly what I didn't like in the book. It was too sudden, too fast and quick. I mean, we all know that most of the time books have insta-romance but there are some I can't really enjoy. Not because I don't like the couple but because it was simply too sudden! There was no time for the characters to get to know each other properly. It's a romance I can't seem to connect with because the characters didn't allowed me to see it grow and develop.
But there is another character in this book that might be a potential love-interest and that one clicked with me way more than Violet and Nate. But I won't get into that because of spoilers! But this character I'm talking about allowed me to get to know him and his relationship with Violet didn't feel too rushed. 
I really enjoyed the whole Creepy Hollow universe. I feel this world has great potential and the little we got to know made super excited about it. The author didn't throw everything about this fantasy world at us expecting us to know it already. Instead she allowed the characters to introduce us to their environment.
The plot, in the beginning, felt slightly rushed as if the author was trying to get the action started without wasting time. But it was only part of it as a lot more ends up happening towards the end of the book. The first half of the action – mostly related to Nate – only helped the plot to reach another plot and they end up being connected. And Rachel Morgan's easy and effortless writing helped connect the dots and made an entertaining read. 
In the end, The Faerie Guardian was a really huge surprise. It was a fun, quick read with a main character that I enjoyed (at times!) and a fantasy world that has all the potential to be amazing. Really looking forward to read more in this series and see where the story goes.