Hello amazing people!
I haven't been around my blog for months now. I had planned on updating the blog in January but a lot of things have been happening in my life that made it impossible.
Truth is, in December my life was turned upside-down in a way that neither me nor my mother were expecting and it has taken us all our strength to deal with this. My grandmother had a small stroke after Christmas and since then it has been pure chaos. We never dealt with this situation before so it has been a tiring few months.
I have been on a rather tiny reading slump due to that. I would go to bed exhausted and whenever I picked up a book, I couldn't focus on it long enough to finish it. I think I tried to read a lot of books but ended up giving them up around 20 pages.
But things are slightly better now with my grandmother medicated and my old routine back. January was simply the worst month ever. But February and Mach has been slowly getting better and, I have to be honest, I miss blogging. I miss sharing book-related (or not) stuff with you. 
Despite being back, however, I won't promise I will be posting every single day or that I'm back in force. I will be slowly posting one or two posts, try to write reviews and share a few things. It'll be a rather slow process but I will definitely try to blog more often.
I have a few posts planned already. One of them is a tag that I was supposed to have published on December but with my finals and then Christmas and stuff, I totally forgot. I'm not entirely sure if I'll be doing a top 5 favourite books from last year but I might… Let me know if you want me to do it and I'll do it. 
As for a quick reading status updates: I am currently reading (still since a few weeks now) Pride and Prejudice and Zombies which has been a funny experience. Knowing the original source, having Lizzy and Mr. Darcy fighting zombies is weird as hell. There were a few moments in the book already that were slightly over the top but overall I have been rather enjoying it. And no, I haven't seen the movie and I plan on watching it on DVD when it comes out. But it was the movie that made me want to read the book in the first place.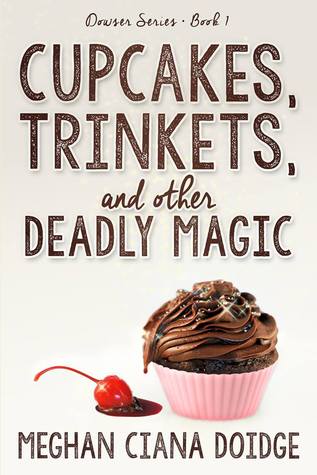 Other book that I've started is Cupcakes, Trinkets and other Deadly Magic by Meghan Ciana Doidge because Regan, from PeruseProject – go follow her videos if you haven't yet… she's super cool, mentioned it on one of her videos and since the book was free to download, I thought "why not?". I only read a few pages and I'm hoping it'll be a fun and quick story with magic and chocolate hehe xD
I also got an account on BooksAmino just yesterday. I'm still relatively new to that but I hope it'll be a way for me to meet new people, books and authors. It's just a community app that allows you to share everything bookish in your life. You can follow me there as Ner the Witch (if you can't find me let me know!)
This as just a quick update to let you know I haven't forgotten you. Life gets a lot in my way and it makes it complicated to dedicate time for myself. But I will always come back… always!
In the meantime, if you want to follow me on my social networks, feel free to do so. You can follow me on Twitter, Instagram and snapchat (nerthewitch). Looking forward to see you guys there 😉
Thank you all for your patience and understanding and keep an eye out tomorrow for my long lots tag 🙂